It doesn't matter what you trade, it doesn't matter how you trade it, but if you use the most common and successful technical tool on the market, you'll enjoy great success - and great returns.
This also happens to be one of the oldest technical tools there is, and one of the most powerful. It's not to be underestimated.
And today, I'm going to show you how to use it like a seasoned pro.
It couldn't be easier...
Look at These Numbers for Every Trade
Every single trader I know considers support and resistance before taking a position.
Here's what I mean.
At its simplest, support is a price level where a stock has traded down to, but cannot go below, for a certain period of time.  It serves as something of a "floor" for price.
Resistance is the opposite - a price level where a stock has traded up to, but cannot exceed for a certain period of time. If support acts like a "floor," then resistance is a price "ceiling."
This chart of Qualcomm Inc. (Nasdaq: QCOM) is the perfect way to illustrate these concepts.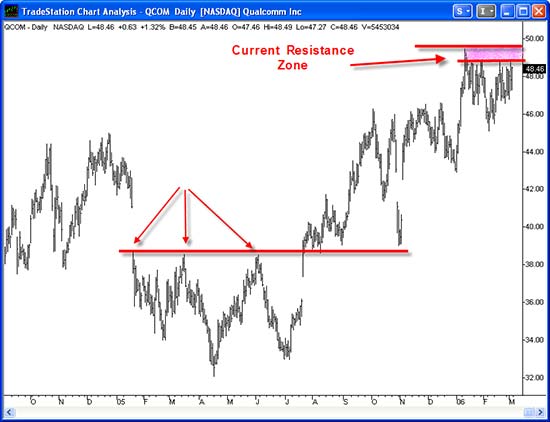 You can see some key characteristics on this chart.
You can tell whether a particular support or resistance level is "strong" by how fast prices move from that level. The stronger the support or resistance, the quicker the moves. As you become familiar with this technical tool, you'll see this over and over again on charts.
Once a resistance level is broken decisively, it often becomes a support level for future price action. The opposite is also true; old support levels turn into resistance zones for subsequent price movement.
Let me show you how this looks in action on what was a very profitable trade. My Stealth Profits Trader readers took down more than 100% with this on Friday.
Now, I can't share the specific options we traded - that wouldn't be fair to my paid readers - but I can show you the shares and how they moved in relation to support and resistance to bring us this, our twelfth triple-digit win since the start of 2017.
Here's how the iShares Silver Trust ETF (NYSE Arca: SLV) moved to help us frame our trade.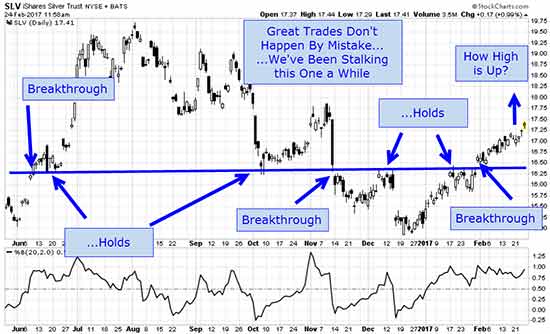 When silver broke through the key resistance level in late January, all we needed was a pullback and a Hooke.
We got both early in February, jumped in, and have enjoyed a profitable ride ever since.
Follow Money Morning on Facebook and Twitter.
Join the conversation. Click here to jump to comments…
About the Author
D.R. Barton, Jr., Technical Trading Specialist for Money Map Press, is a world-renowned authority on technical trading with 25 years of experience. He spent the first part of his career as a chemical engineer with DuPont. During this time, he researched and developed the trading secrets that led to his first successful research service. Thanks to the wealth he was able to create for himself and his followers, D.R. retired early to pursue his passion for investing and showing fellow investors how to build toward financial freedom.