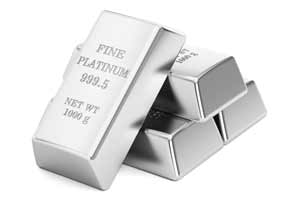 The price of platinum per ounce in 2017 has seen an exceptional rally compared to other precious metals…
Since the start of the year, gold prices are up 9.4% to $1,260.30 per ounce. On the other hand, the platinum price has climbed 15.2% over the same period. Platinum prices today (Monday, Feb. 27) are up 1.5% to $1,043.60.
And Money Morning Resource Specialist Peter Krauth – a 20-year veteran of the metals market – believes the price of platinum will head even higher in 2017. That's because platinum plays a huge role in one booming industry set to send long-term demand for the precious metal skyrocketing.
Before we get into this one industry's massive impact on platinum prices, here are two other things you may not know about platinum investing…
2 Important Facts to Know About the Platinum Market
The first fact is that platinum is among the rarest metals in the world. It's much rarer than gold and silver.
You see, platinum trades via futures contracts on the New York Mercantile Exchange (NYMEX), similar to gold and silver. However, far less platinum is actually extracted from the ground every year. That's because it's simply too difficult to mine, which increases operating costs and makes platinum mining unprofitable for most companies.
Don't Miss: The Best Stocks to Buy in 2017 – Free Report
Data from Statista shows the world's five largest platinum-producing countries – South Africa, Russia, Zimbabwe, Canada, and the United States, which make up 98% of global platinum output – produced a combined 168.9 metric tons in 2016. That's nothing compared to the 3,100 metric tons of gold produced last year around the world.
The second thing to understand about the price of platinum per ounce is that it's correlated to the U.S. dollar – just like gold and silver prices.
And like gold and silver prices, platinum prices tend to move inversely to the dollar. Since platinum is priced in dollars, the price per ounce rises when the dollar weakens. That's because the metal becomes cheaper for people using other currencies to buy it. In other words, it takes less of a foreign currency to buy platinum.
But the third fact to know about the platinum price is how it could rally thanks to its use in one particular industry…
According to Krauth, roughly 43% of consumed platinum goes toward this industry. And growing sales in this industry will push demand higher this year.
Here's why the price of platinum will rise…
The Biggest Reason Why the Price of Platinum per Ounce Could Rise in 2017