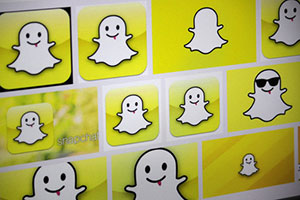 Investors can find the Snapchat stock symbol on the New York Stock Exchange (NYSE) trading under the symbol SNAP.
On the Snapchat IPO date, which could happen as early as March, the official listing will be Snap Inc. (NYSE: SNAP).
Snapchat is expected to be valued between $16 billion and $25 billion, and it's easily the most hyped IPO on Wall Street so far this year.
But before buying into the hype, we want to make sure Money Morning readers know everything there is to know about the Snap Inc. IPO…
Snapchat Revenue Totals Are Soaring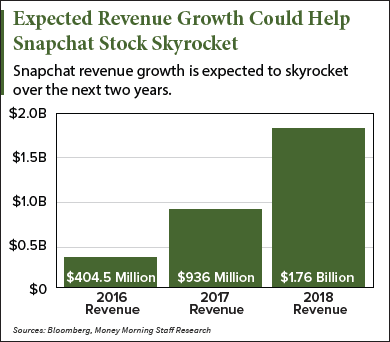 In its IPO filing, Snapchat reported it generated $58 million in revenue for 2015.
By 2016, revenue jumped 597% year over year to $404.5 million.
And investors are so anxious to buy Snapchat stock because revenue totals could be in the billions in the next two years…
In 2017, Snapchat could generate between $936 million and $1 billion in revenue.
By 2018, revenue could climb between $1.76 billion and $2 billion.
However, investors need to know Snapchat is far from profitable…
Snapchat Revenue vs. Net Losses
In 2015, Snapchat lost $327.8 million. In 2016, it lost $514.6 million.
In just one year, that's an increase of 56% in net losses.
In fact, Snapchat said in its IPO filing that it may never be profitable.
That's why investors have been asking us whether Snapchat stock is a good investment.
Here's what you need to know…
What to Do on the Snapchat IPO Date