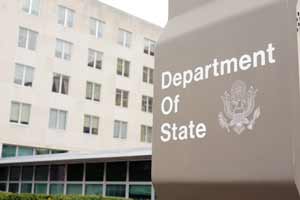 President Donald Trump is expected to deliver his budget proposal in a speech to Congress at 9 p.m. EST this evening.
Already, however, his plan has been met with steep opposition - especially from his own party members...
You see, part of the new president's budget plan consists of a $54 billion increase in defense spending.
That massive sum is only achievable by making deep cuts into other government programs elsewhere.
One program on Trump's chopping block is the State Department. According to FOX News this afternoon, the president will propose cutting State Department funding by 37%.
And as far as one Republican senator is concerned, taking money away from the U.S.' chief foreign affairs agency will pose a huge threat to American lives...
Sen. Graham: Trump's Budget Proposal Is "Not Going to Happen"
This morning, Sen. Lindsey Graham (R-SC) claimed that President Trump's first budget was "dead on arrival" and wouldn't make it through Congress.
"It's not going to happen," said Graham, according to NBC News. "It would be a disaster."
Don't Miss: How to Profit from the Same Trend That Drove U.S. Stocks Up 1,262% in the 80s and 90s
Graham said significant State Department cuts would endanger American foreign service officers by limiting necessary expenses - many of which critics of Trump's budget proposal don't consider "arguable" or up for debate...