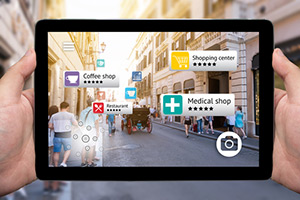 Snapchat calls itself a "camera company," but most users view it as a social media app that offers a fun twist on taking pictures and video.
However, investors need to view Snapchat differently as the Snapchat IPO date approaches…
That's because Snapchat could grow into a fully augmented reality (AR) company, and the AR market is expected to be worth $80.2 billion by 2022.
You see, Snapchat recently rolled out a new AR gaming feature in a new lens.
The lens no longer appears available on Snapchat. But according to the website "We Are Social Media," Snapchat placed an AR game in its "Princess and Queens" lens.
Within the lens, users look for hidden "gems" that appear within the same room. After finding five gems, Snapchat users reportedly receive an upgraded lens that placed the word "queen" above their heads.
This doesn't sound as impressive as Pokemon Go, where you "throw" a ball that captures a creature that pops up right in front of you.
But this is an early sign more advanced AR games and technology are on the way from Snapchat.
And there are two reasons why Snapchat transitioning into a full AR company is easier than Wall Street realizes…
Why Snapchat Could Turn into an Augmented Reality Company
One of the reasons Snapchat could transition into an AR company is it already reaches a key demographic: 18- to 35-year-olds.
In 2016, the largest group of video game players in the United States was between the ages of 18 and 35. The second-largest group was under 18.
Must Read: A List of Virtual Reality Stocks to Watch
And Snapchat is already reaching a majority of those individuals…
As of Q4 2016, Snapchat reached 70% of Americans aged 18 to 24 years old. Also, 58% of Snapchat's daily active users (DAUs) are between the ages of 13 and 24, according to a MoffettNathanson report.
So Snapchat already has the user base that would be most inclined to play games.
And it also has the hardware to transition into a primarily AR-focused company…
On Sept. 23, 2016, Snapchat released its first hardware product, sunglasses called Snapchat Spectacles. These sunglasses have a camera that can take 10-second videos and post them on Snapchat accounts.
As you can see in the video below, the technology is limited right now.
But Snapchat's open positions suggest that could soon change…
On Snapchat's job board, it has open positions for:
3D Character Modeler
3D Designer: Lead Character Modeler
3D Designer: Lighting and Rendering Artist
Candidates for these positions need knowledge and experience with high-poly and low-poly modeling.
Poly modeling is highly technical, but all investors need to know is it is an integral part of augmented reality applications like games.
That means through Spectacles, Snapchat could create AR games like Pokemon Go. Snapchat could also create a game store for AR game makers to upload their own games.
Through that model, Snapchat could collect a commission from each game sold.
We know investors have a lot of questions about investing in Snapchat stock. That's why we created this exclusive guide for Money Morning readers.
In our Snapchat stock guide, you'll learn:
How Snapchat works
How Snapchat makes money
Snapchat's valuation
And we also answer the most important question there is: Should I buy Snapchat stock?
You can start researching Snapchat stock before its inevitable IPO through our exclusive guide, right here.
Bonus Opportunity
The vote across America for marijuana legalization is expected to create one of the biggest wealth grabs in history, transforming everyday Americans into millionaires overnight.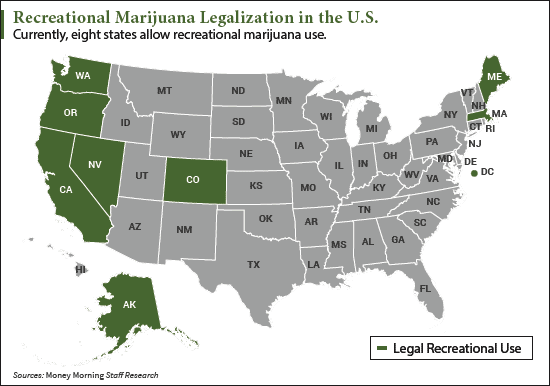 As a service to Money Morning readers, we're now making available a 90-page cannabis investing guide called The Roadmap to Marijuana Millions.
This "bible of weed investing" reveals the world's top marijuana stocks every serious investor should consider right now.
Normally valued at $499, it can be yours absolutely free. To learn how to get your free copy, click here.
This offer is only available to the first 500 people who respond today. So please go here now to reserve your copy.
Follow Money Morning on Facebook and Twitter.