Here are five VR stocks to invest in for long-term gains:
| | | |
| --- | --- | --- |
| Company | Stock Symbol | YTD Return as of 3/1/17 |
| Facebook Inc. | FB | 17.81% |
| 3D Systems Corp. | DDD | 14.37% |
| Sony Corp. | SNE | 10.45% |
| Ambarella Inc. | AMBA | 8.9% |
| Microsoft Corp. | MSFT | 2.96% |
Four of these five stocks have outperformed the broader markets this year. The exception is Microsoft, but it has still posted a gain of nearly 3%.
By comparison, the Dow Jones Industrial Average has climbed 5.30% in 2017.
And we expect these VR stocks to continue climbing in 2017. Here's why...
Why VR Stocks Will Skyrocket in 2017
Because of virtual reality's wide range of applications, VR stocks will skyrocket. By 2022, the VR industry is expected to be worth $33.9 billion.
Sign up for SMS so you never miss special events, exclusive offers, and weekly bonus trades.
And here's how it's going to get there...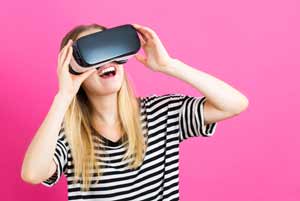 First, VR stock prices can climb thanks to gaming. According to Fortune, VR video game enthusiasts were projected to spend $5.1 billion in 2016 on gaming hardware, software, and accessories.
For 2017, that number could climb to $8.9 billion. That would be a year-over-year (YOY) increase of 74.5%.
Trending Story: Snapchat Stock Guide Before the Snap IPO
And games are just one reason the VR industry will be worth over $33 billion by 2022...
You see, Facebook CEO Mark Zuckerberg paid $2 billion for Oculus VR in 2014 for more than just games.
Zuckerberg's ambitions for VR technology sound like they're out of a science fiction movie. But the truth is, his plans will soon become part of our everyday lives.
And not only will that make the FB stock price climb, the stock prices of the top VR companies will climb, as well.
Here's how Zuckerberg plans to revolutionize the VR industry...
How VR Stocks Can Provide the Best Long-Term Gains