(Kitco News) -Tuesday evening's speech by U.S. President Donald Trump to the U.S. Congress was deemed to be optimistic and much more "presidential" than some of his campaign or press conference rhetoric, and that has worked to somewhat assuage the world marketplace and add to a "risk-on" mentality in markets Wednesday. World stock markets were mostly higher Wednesday. U.S. stock indexes are pointed toward higher openings when the New York day session begins. U.S. stock indexes are at or near record highs.
Gold prices are lower in part due to the risk-on trading day Wednesday, but also on some profit taking from recent good gains.
U.S. Federal Reserve officials, including Chair Janet Yellen, are speaking this week. New York Fed President William Dudley on Tuesday said the case for raising U.S. interest rates "has become a lot more compelling." San Francisco Fed President John Williams said on Tuesday that a March rate hike is "very much on the table for consideration." Reports said Goldman Sachs sees a 60% chance for a U.S. interest rate increase at the March FOMC meeting.
The more hawkish tone from those Fed officials on Tuesday have boosted the U.S. dollar, and have pushed up U.S. Treasury bond and note yields as well as government bond yields in Europe.
In overnight news, the Euro zone Markit purchasing managers' index (PMI) came in at 55.4 in February from 55.2 in January. That was the highest reading in six years. Meantime, China's official manufacturing PMI came in at 51.6 in February from 51.3 in January. PMI readings above 50.0 suggest growth.
The key "outside markets" on Wednesday morning find the U.S. dollar index trading solidly higher. Trading in the USDX has turned choppy and sideways recently. Meantime, Nymex crude oil futures prices are slightly higher today. Oil prices are still in a sideways and choppy trading range that has bound that market for several weeks.
There is a heavy slate of U.S. economic data due for release Wednesday, including the weekly MBA mortgage applications survey, personal income and outlays, the U.S. manufacturing PMI, construction spending, the ISM manufacturing report on business, the global manufacturing PMI, domestic auto sales, the Fed's beige book and the weekly DOE liquid energy stocks report.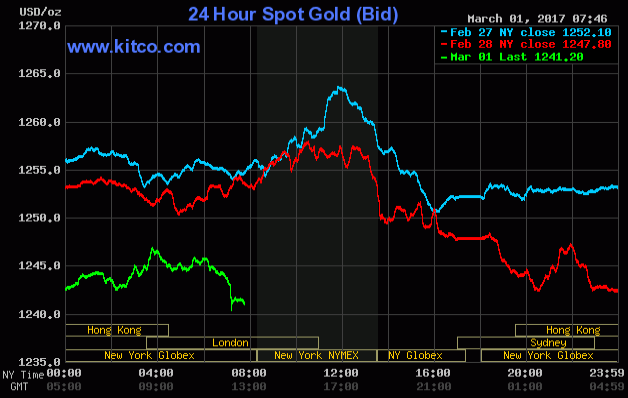 By Jim Wyckoff, contributing to Kitco News; jwyckoff@kitco.com
Follow Jim Wyckoff @jimwyckoff for breaking news.