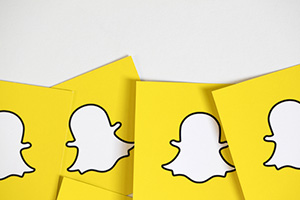 The Snap IPO price has been set between $14 and $16 per share, as Snapchat officials prepare for the stock's debut on the NYSE tomorrow morning (Thursday, March 2).
Snap Inc. (NYSE: SNAP) is expected to offer 200 million shares through the IPO. That would value the company between $19.5 billion and $22.2 billion.
And when Snapchat stock debuts, it's likely we will see the Snap stock price climb significantly. However, we don't view Snapchat stock as a "Buy" on the IPO date. Here's why.
Snap IPO Price Is Set - Here's What's Next
The Snapchat IPO is the most talked about initial public offering of 2017 so far. High-profile IPOs tend to see their stocks soar in debuts, whether the companies are financially strong or not.
Don't Miss: Our complete guide on how to handle the upcoming Snapchat IPO date, and whether you should buy this tech IPO...
Take GoPro Inc. (Nasdaq: GPRO), for example. GPRO stock was offered at $24 per share, opened at $28.65 the day of the IPO, and closed at $31.34 the same day. Less than three months after its debut, GPRO stock was worth nearly $87 per share. But the optimism then wore off, and the stock fell continuously for the next two years. Today, GoPro opened at just $9.36. Many investors timed their buying wrong and ended up losing money on GPRO.
Don't be surprised if the Snapchat stock price soars in its debut tomorrow, too. According to a report from Reuters today, the IPO book is "over-subscribed" with orders ahead of the Snapchat IPO date. That indicates demand is already extremely high.
But a popular debut does not always make for a sound investment. And that's especially true with Snapchat...
"IPOs are little more than a get-rich quick scheme with the odds stacked so heavily against you that house odds in Vegas seem downright conservative by comparison," Money Morning Chief Investment Strategist Keith Fitz-Gerald said.
Fitz-Gerald says that the Snapchat IPO may be the "single most dangerous IPO I've ever seen."
That's why Money Morning has put together a complete guide on what investors must know about Snap stock before it hits the market. You'll get the key financial details of the company, its growth prospects, and what to expect when the stock hits the market. This guide is completely free for our readers - and it helps you get "in the know" on 2017's biggest IPO, so you end up on the right side of the profits...
Follow Money Morning on Facebook and Twitter.