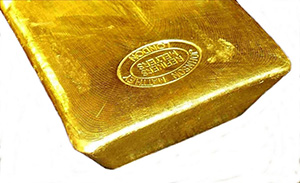 Our Money Morning experts just found the two best gold stocks to buy right now, and shares of these companies could gain 19.1% and 28.5% by March 2018.
We're confident in these two gold stocks to buy because the price of gold has seen a strong rebound this year. Gold prices have increased 7.8% since the beginning of 2017 to their current $1,253.90. This is after the price of gold lost 10% over the last two months of 2016.
And Money Morning Resource Specialist Peter Krauth predicts that gold prices will not only outperform the stock market this year, but also rise to $1,400 by the end of 2017. That would be a gain of more than 11.7% from today's levels.
Don't Miss: An incredibly rare gold anomaly is shaping up in the markets as we speak — one that has occurred ONLY twice in the past 20 years. And it's about to happen again. Details here…
While physical gold remains a good investment, we also recommend investing in gold mining stocks. Owning gold mining stocks lets you make money from the gold price rally without the hassle of storing and maintaining physical gold.
And the gold stocks we're bringing you today happen to be two of the most dominant companies in the gold mining sector.
Before we get into our picks, here's why gold prices could climb 11% by the end of 2017…
2 Reasons to Buy Gold Stocks in 2017
The first reason to own the best gold stocks to buy in 2017 is inflation. The inflation rate is already at a five-year high of 2.5%, which could continue on an upward trajectory if the 10-year Treasury note and stock market continue to thrive.
When the markets see significant gains, this pushes down the purchasing power of the U.S. dollar, which is a bad sign for the economy. One of the things the U.S. Federal Reserve is charged with doing is keeping inflation under control. It mainly does this by raising interest rates. The Fed raised interest rates on Dec. 14, 2016, and has promised several more hikes in 2017.
The higher bond yields on the 10-year Treasury note are yet another sign of inflation. Today, we're seeing yields of 2.46%, up from 1.57% just six months ago.
Since inflation tends to cause economic uncertainty, investors seek out safe-haven investments like gold just in case there's a big market downturn. This is going to drive up the price of gold in 2017.
The other reason that gold prices will keep pushing higher this year is the reduction in shorts on gold stocks. Many investors take short positions on major gold stocks when they expect them to lose value. If the stock's value falls, the investor makes a profit.
Editor's Note: The Free Guide to Profiting from Gold in 2017
One particular index – the Gold Bugs Short Index – tracks shorts on gold mining companies that don't hedge output based on market conditions. Since the start of 2017, the index is down 8.4%. Since these short positions have been diminishing, this is a sure sign that investors are bullish on the gold market.
Not only is short interest waning, but there is a rising demand for gold mining ETFs. In January alone, the top precious metals ETFs saw $1.6 billion in new investments. These funds included the Market Vectors Gold Miners ETF (NYSE Arca: GDX), which received $165 million worth of investments and has gained 7.8% in 2017.
But today's recommendations aren't gold ETFs. Instead, we've hand-selected two of the best gold stocks to buy right now. One is poised to rally 19.1% in the next 12 months, while the other could climb 28.5%.
Here are our picks for the top gold stocks to buy right now…
The 2 Best Gold Stocks to Buy Right Now