(Kitco News) – Global stock markets were mostly weaker Thursday, on downside corrections following recent good gains. U.S. stock indexes are also pointed toward narrowly mixed openings when the New York day session begins, after surging to record highs on Wednesday and scoring the best one-day gains of 2017.
Gold prices are lower in early U.S. trading, on more profit taking and amid a stronger U.S. dollar this week.
A major topic in the world marketplace this week is growing notions the U.S. Federal Reserve is set to raise interest rates at its March Federal Open Market Committee (FOMC) meeting. Some more generally upbeat U.S. economic data released recently and more hawkish remarks from Fed officials this week are setting the table for a U.S. interest rate hike soon. Federal Reserve Chair Janet Yellen is slated to speak to the Yale law school on Friday at midday.
Another feature this week are rising U.S. and world bond market yields, on ideas of increasing inflationary pressures and rising interest rates. The U.S. two-year Treasury note yield rose to its highest level in seven years on Wednesday.
The key "outside markets" on Thursday morning find the U.S. dollar index trading firmer and hitting another six-week high overnight. The greenback is benefiting from ideas of a U.S. rate hike coming soon. Meantime, Nymex crude oil futures prices are lower today. Oil prices are still in a sideways and choppy trading range that has bound that market for several weeks.
In overnight news, the Euro zone annual inflation rate met the European Central Bank's target for the first time in four years. The EU statistics agency said consumer prices in February were up 2.0%, year-on-year. The rate was up 1.8% in January. This report is yet another indicator that worldwide inflation is on the rise.
Other Euro zone economic data Thursday showed the bloc's jobless rate at 9.6% in January, which is unchanged from the December rate.
U.S. economic data due for release Thursday includes the weekly jobless claims report, the ISM New York report on business and the monthly chain store sales index.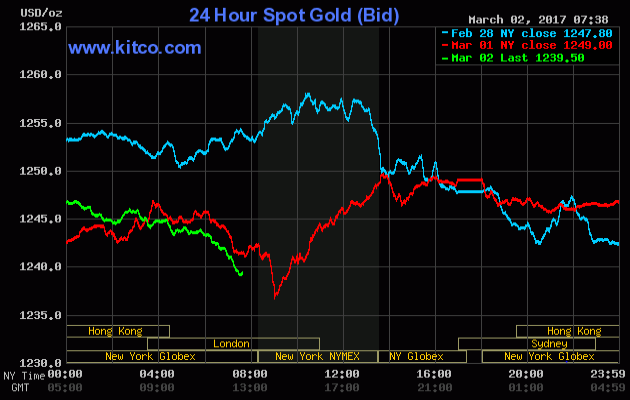 By Jim Wyckoff, contributing to Kitco News; jwyckoff@kitco.com
Follow Jim Wyckoff @jimwyckoff for breaking news.