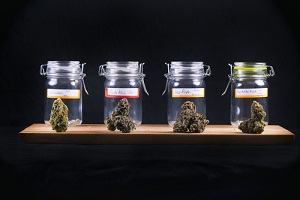 Marijuana is now legal in some form in more than half of the U.S. states. That's creating one of the fastest-growing industries in North America.
While pot stocks are still speculative investments, we are keeping an eye on the top marijuana stocks to watch in 2017 as more states legalize cannabis.
As of November, you can buy marijuana for either recreational or medicinal purposes in 28 states and the District of Columbia. If voters have their way in 2017, we'll be looking at another five states potentially legalizing marijuana soon: New Mexico, Rhode Island, Vermont, New Jersey, and Delaware.
And even more states could put marijuana legalization on their ballots in the next few years...
According to a recent Gallup poll (October 2016), a majority of Americans (60%) now support the legalization of marijuana.
That's why long-term investors are betting on marijuana legalization being more than just a trend.
And some shareholders have watched this first pot stock climb over 489% in the last 12 months...
Marijuana Stocks to Watch Now No. 3: General Cannabis Corp.
General Cannabis Corp. (OTCMKTS: CANN) is a Colorado-based company founded in 2013.
General Cannabis leases cultivation and office space to growers and works as a one-stop shop for companies in the industry.
It sells surveillance equipment and provides cash transportation services and delivery services for marijuana dispensaries and growers.
BRILLIANT: Average Americans Are Becoming Marijuana Millionaires
General Cannabis also provides consultation services to cannabis companies. It helps new businesses with branding strategies, market research, and locating sources of capital for startup and growth.
It also makes and sells apparel under the name "Chiefton."
The CANN stock price opened this morning at $2.15 per share. While it's down 31.87% in 2017, it has climbed 489.19% over the last 12 months.
And the next marijuana stock on our watch list has already climbed 30.65% in 2017...
[mmpazkzone name="in-story" network="9794" site="307044" id="137008" type="4"]
Marijuana Stocks to Watch Now No. 2: Canopy Growth Corp.
Canopy Growth Corp. (OTCMKTS: TWMJF) was one of the top marijuana stocks of 2016 and remains a cannabis stock to watch in 2017.
Canopy Growth is the largest marijuana greenhouse operator in the world and is making plans to expand operations in 2017.
The company produces and sells medical marijuana products throughout Canada and parts of Europe.
Both its Tweed and Bedrocan products are known as the best medical-grade marijuana products in the world. In fact, seven European countries have used its products in clinical studies.
In 2016, Canopy Growth also signed a partnership deal with musician Snoop Dogg, which has boosted its visibility and sales even more.
Over the last 12 months, the TWMJF stock price has climbed over 307%. So far in 2017, the TWMJF stock price has climbed 30.65%.
Marijuana Stocks to Watch Now No. 1: Cannabis Sativa Inc.
Cannabis Sativa Inc. (OTCMKTS: CBDS) is a Nevada-based marijuana company that promotes and sells a variety of cannabis and hemp-based products.
It develops and sell edibles, cannabis formulas, topicals, and delivery systems.
In December, Cannabis Sativa obtained a patent for a plant called Ecuadorian Sativa, also known as CTA. This is one of the few strains that is registered with the U.S. Patent and Trademark Office.
The company also has a recipe to maximize cannabinoid concentrations in the NZT strain that is used to make a medical marijuana lozenge.
Cannabis Sativa also has a process and recipe to make a salve/ointment from cannabinoid concentrates.
So far in 2017, the CBDS stock price is down 3.39%.
The legal marijuana market is going ballistic. Last year, sales skyrocketed to $6.7 billion... and several analysts estimate sales could eventually reach $150 to $200 billion each and every year. Even better, right now marijuana stocks are on fire, with peak gains quadrupling in value. And these are mostly small companies trading for under $10. Click here to find out how you can be the next "Marijuana Millionaire"...