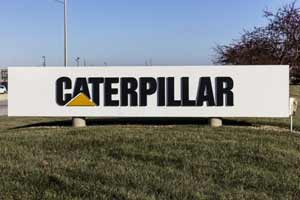 The CEO of Caterpillar Inc. (NYSE: CAT) said he was surprised yesterday when federal authorities raided his company's headquarters in Illinois. But digging a little deeper into this story turns up a major clue this was going to happen...
The probe was allegedly part of an ongoing criminal investigation into possible tax evasion schemes executed by the Fortune 500 firm's subsidiary site – CSARL – in Switzerland.
"We were surprised by today's actions primarily because we have been so cooperative with the authorities in [their ongoing investigation into CSARL in Switzerland]," CEO Jim Umpleby said in an internal statement yesterday, according to ConstructionEquipment.com today. "We have acted in good faith and as a good corporate citizen. That will not change. We will continue to work toward a resolution of these matters, just as we did today."
What Umpleby didn't point out in his memo was the story behind the feds' interest in the company's Swiss subsidiary in the first place.
Though he just took over the company in October 2016, it wasn't terribly long ago that Caterpillar had a disenchanted whistleblower within its corporate ranks…
Don't Miss: Five Double-Digit Dividend Plays to Secure Your "Second Salary"
Someone who was dead-set on exposing the heavy machinery manufacturer's illicit tax schemes…
Former Employee Reveals Caterpillar's Two "Tax Evasion Structures"
In 2009, former Caterpillar exec Daniel Schlicksup filed a federal wrongful termination lawsuit against the company. Schlicksup had been in charge of the company's international tax strategies throughout the early 2000s.
Until he pointed out discrepancies in the firm's tax structuring to his colleagues one day…
Schlicksup told his coworkers in 2008 that the various tax restructuring schemes Caterpillar had undertaken were merely enacted in order to avoid paying U.S. taxes.
One such scheme – called the "Swiss structure," according to Peoria Journal Star on Thursday – involved the company selling and shipping spare parts globally from a U.S. warehouse while attributing at least $5.6 billion of profits from those sales to Caterpillar's CSARL affiliate in Geneva, Switzerland.
A different strategy the Fortune 500 company allegedly used, according to Schlicksup, was known as the "Bermuda structure." It involved shell companies that had no active business operations whatsoever that somehow still managed to return profits back to the United States without paying taxes on them.
In response to Schlicksup's tax evasion accusations, the company transferred him to another division – which he considered a demotion. In 2009, he sued.
Schlicksup's suit was settled out of court in 2012, but by that point it had drawn the interest of the U.S. Senate… especially Senate Democrats…
Senate Dems Start Their Own Tax Evasion Investigation on Caterpillar
[mmpazkzone name="in-story" network="9794" site="307044" id="137008" type="4"]
Between 2012 and 2014, Senate Democrats investigated Caterpillar's tax filings and operations between the years 2000 and 2009.
In 2014, they released their official report…
It claimed that, since 2000, Caterpillar had transferred 85% of its annual parts business profits in the United States to its Swiss subsidiary, where no employees or business activities had ever occurred, reported Quartz Media in April 2014.
And because of that strategic move, Caterpillar's parts-based income had been taxed at a special rate of 4% to 6% that the firm had purportedly negotiated with the Swiss government, the report claimed.
Meanwhile, only 15% of Caterpillar's overall parts-related profits were ever subjected to U.S. taxation during that stretch of nine years.
Important Read: Will Trump Cut My Taxes?
The Dems' 2014 report ultimately concluded that Caterpillar owed $2.4 billion to the United States in back taxes that it had avoided paying during that time.
The U.S. Securities and Exchange Commission (SEC) ran with the Democrats' investigation from there. The agency notified Caterpillar in 2015 that it was conducting an "informal investigation" relating to CSARL. The SEC also asked the company stateside to preserve relevant documents from that time.
Caterpillar agreed to cooperate, to which the CEO admitted as much in his internal email yesterday.
But the "surprise" factor of which Umpleby spoke just doesn't add up.
And Morningstar analyst Keith Schoonmaker doesn't seem to be falling for the CEO's feigned shock and awe, either.
In fact, Schoonmaker told Reuters this morning, "We suspect the core of the matter is not 'new' news, but rather that it relates to the risk already disclosed in 2014-16." He added that the company's current exposure could actually rise to $3 billion since it has continued to file tax returns on the same U.S. tax basis it has been claiming for years.
Meanwhile, Caterpillar's share price is roughly 4% lower than what it had been just before the raids, which was $97.91. As of Friday afternoon (March 3), its price was $94.83.
An $80 Billion Cover-Up? Under the watchful eye of Congress, the government will soon be implementing a controversial plan that threatens the retirement of millions of Americans. And they're using an obscure loophole buried in Title 29 of the U.S. Labor Code to do it. If you have a 401(k), IRA, or any type of retirement account, this could cause you to miss out on $68,870 or more. Learn more…