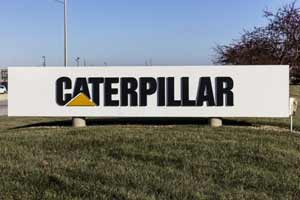 The CEO of Caterpillar Inc. (NYSE: CAT) said he was surprised yesterday when federal authorities raided his company's headquarters in Illinois. But digging a little deeper into this story turns up a major clue this was going to happen...
The probe was allegedly part of an ongoing criminal investigation into possible tax evasion schemes executed by the Fortune 500 firm's subsidiary site – CSARL – in Switzerland.
"We were surprised by today's actions primarily because we have been so cooperative with the authorities in [their ongoing investigation into CSARL in Switzerland]," CEO Jim Umpleby said in an internal statement yesterday, according to ConstructionEquipment.com today. "We have acted in good faith and as a good corporate citizen. That will not change. We will continue to work toward a resolution of these matters, just as we did today."
What Umpleby didn't point out in his memo was the story behind the feds' interest in the company's Swiss subsidiary in the first place.
Though he just took over the company in October 2016, it wasn't terribly long ago that Caterpillar had a disenchanted whistleblower within its corporate ranks…
Don't Miss: Five Double-Digit Dividend Plays to Secure Your "Second Salary"
Sign up for SMS so you never miss special events, exclusive offers, and weekly bonus trades.
Someone who was dead-set on exposing the heavy machinery manufacturer's illicit tax schemes…
Former Employee Reveals Caterpillar's Two "Tax Evasion Structures"
In 2009, former Caterpillar exec Daniel Schlicksup filed a federal wrongful termination lawsuit against the company. Schlicksup had been in charge of the company's international tax strategies throughout the early 2000s.
Until he pointed out discrepancies in the firm's tax structuring to his colleagues one day…
Schlicksup told his coworkers in 2008 that the various tax restructuring schemes Caterpillar had undertaken were merely enacted in order to avoid paying U.S. taxes.
One such scheme – called the "Swiss structure," according to Peoria Journal Star on Thursday – involved the company selling and shipping spare parts globally from a U.S. warehouse while attributing at least $5.6 billion of profits from those sales to Caterpillar's CSARL affiliate in Geneva, Switzerland.
A different strategy the Fortune 500 company allegedly used, according to Schlicksup, was known as the "Bermuda structure." It involved shell companies that had no active business operations whatsoever that somehow still managed to return profits back to the United States without paying taxes on them.
In response to Schlicksup's tax evasion accusations, the company transferred him to another division – which he considered a demotion. In 2009, he sued.
Schlicksup's suit was settled out of court in 2012, but by that point it had drawn the interest of the U.S. Senate… especially Senate Democrats…
Senate Dems Start Their Own Tax Evasion Investigation on Caterpillar