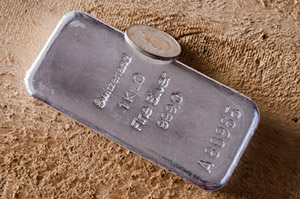 Investing in silver in 2017 has offered huge returns compared to other popular investments.
Since Jan. 1, the price of silver has climbed 12.3% to today's (Friday, March 3) closing price of $17.79. In the same time, gold has only climbed 7.3%. Platinum has done slightly better at 10.2%, but it still lags behind silver.
Even more significant is the silver price's outperformance of the broader stock market. Silver's 12.3% rise smashes the Dow Jones' 6.2% gain and the S&P 500's 6.3% climb.
And the rally in silver prices comes at a time when most investors would expect them to decline…
You see, the Dow Jones' massive rally to new all-time highs this week should be bearish for silver. But Money Morning Resource Specialist Peter Krauth isn't afraid of the market highs.
In fact, he believes silver investors are in for another 23.7% return by the end of 2017. And that's a conservative estimate.
Here's why the soaring Dow Jones and S&P 500 won't deter Krauth's 2017 silver price prediction…
Why Investing in Silver Remains Attractive Despite the Stock Market Rally
Despite trading mostly flat today, the Dow Jones Industrial Average has been on an incredible tear since Donald Trump took office.
Last month, the index surged 4.8% and notched new all-time highs from Feb. 9 to Feb. 27. That was the longest streak of daily gains since 1987. This run came after Trump's announcement that he'd release his new tax plan in the coming weeks – a plan that's widely believed will significantly reduce corporate taxes.
Urgent: A door has opened for an ultra-rare but powerful anomaly in the stock market… It involves a precious metal, one that's considered exceedingly more rare than gold. Get all the details.
Since then, the pro-business plan has reassured investors that there's plenty of money to be made in the stock market. That bullishness not only put the Dow Jones on a massive winning streak, but also sent it above the 21,000 mark for the first time ever on March 1.
Skyrocketing stock prices is often bad for silver prices. When the stock market pushes higher and higher, investors believe they can't possibly lose money. This convinces them to withdraw their money from safe-haven investments like silver and put that money into the more profitable stock market. After all, safe havens are only used during times of volatility.
But silver's 4.9% gain in February shows investors still want silver during the rally. And Krauth – a precious metals specialist with over two decades of experience – says demand for physical silver will stay strong this year thanks to an emerging trend in the silver industry.
Here's why this industry will be a massive catalyst for silver prices, along with Krauth's latest silver price target…
1 Reason Why the Price of Silver Will Soar 23.7% This Year