(Kitco News) – Global stock markets were mostly weaker Friday, on profit taking and downside corrections following recent good gains. U.S. stock indexes are pointed toward mixed to slightly lower openings when the New York day session begins, after scoring record highs on Wednesday.
Gold prices are lower again today and hit a two-week low. The bulls have faded late this week and need to show fresh power soon to keep the near-term uptrend in place.
The marketplace this week has come to the conclusion that it's now very likely the U.S. Federal Reserve will raise interest rates at this month's Federal Open Market Committee (FOMC) meeting (March 14-15). Federal Reserve Chair Janet Yellen is slated to speak in Chicago today at midday. She could very well give more guidance on the timing of the next Fed rate hike. Other Fed officials are speaking in New York today.
A feature in the world marketplace this week is rising U.S. and world bond market yields, on ideas of increasing inflationary pressures and rising interest rates. U.S. bond and note yields are slightly higher (prices lower) Friday morning.
In overnight news, the Euro zone's February composite purchasing managers'
index (PMI) came in at 55.5 versus 53.7 in January. A reading of 55.6 was expected. A number above 50.0 suggests growth in the sector.
The key "outside markets" on Friday morning see the U.S. dollar index trading weaker on a downside correction after hitting a six-week high overnight. The greenback is benefiting from increasing ideas of a U.S. rate hike coming this month. Meantime, Nymex crude oil futures prices are slightly higher today on a tepid bounce following losses scored the past couple sessions and hitting a three-week low Thursday. This week's U.S. DOE liquid energy stocks report showed record-high crude oil stockpiles.
U.S. economic data due for release Friday includes the U.S. services PMI, the ISM non-manufacturing report on business, and the global services PMI.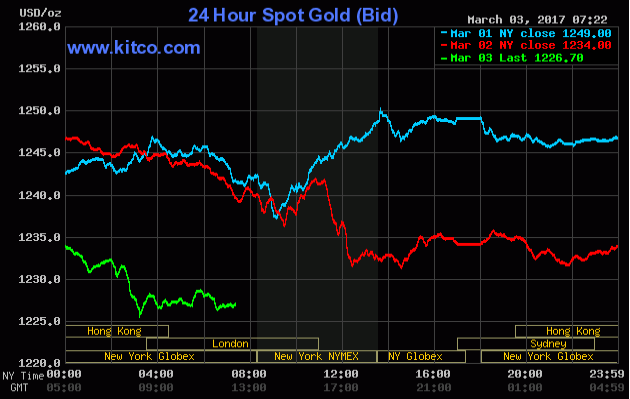 By Jim Wyckoff, contributing to Kitco News; jwyckoff@kitco.com
Follow Jim Wyckoff @jimwyckoff for breaking news.