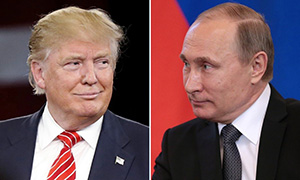 Are U.S. President Donald Trump and Russian President Vladimir Putin about to meet in Slovenia?
The answer to this question remains, as of yet, unclear.
Here's what we do know…
Just five days ago, on March 1, a senior U.S. official denied claims that a Trump and Putin meeting was indeed being planned.
That was after Russian Deputy Foreign Minister Sergei Ryabkov stated on Feb. 28 that practical preparations were underway for a meeting between the two leaders. Ryabkov had added, however, that there was "no agreement yet as to the time and place," reported The Wall Street Journal.
And despite Washington's repudiation, another source is now touting a meeting between the two world leaders.
Must See: Trump's Secret Weapon Set to Foil China's Master Plan
This time it's the leader of the small nation state of Slovenia egging on the Trump-Putin meet-up gossip…
Tiny Nation Invites "Traditional" Trump and Putin Meeting
Just this morning (March 6), Slovenian President Borut Pahor told The Associated Press that his invitation to host a summit between Trump and Putin is "still on."
The Slovenian leader even went so far as to remind the press of the Slovenian "tradition" surrounding such meetings…