(Kitco News) – World stock markets were mostly lower overnight, in generally quiet trading. U.S. stock indexes are also pointed toward weaker openings when the New York day session begins.
Gold prices are higher in early U.S. trading, on a corrective bounce following last week's strong selling pressure that has somewhat deflated the bulls and their recent technical momentum.
The big news overnight is that General Motors has decided to sell its European operations after the U.S. automaker lost money in that region for two decades.
In other overnight news, the Bank of International Settlements issued a report that said the collective world economy still has significant trouble spots, including a potentially volatile Chinese currency, a stronger U.S. dollar and U.S. protectionist sentiment.
The key outside markets on Monday morning see the U.S. dollar index trading slightly higher. The greenback has benefitted recently on increasing ideas of a U.S. interest rate hike coming this month. Meantime, Nymex crude oil futures prices are weaker today. Crude prices are near the lower boundary of a recent sideways and choppy trading range.
Arguably the most important economic report of the week will be Friday's U.S. employment report for February from the Labor Department. The key non-farm payrolls component of the report is forecast to come in at up around 190,000 workers.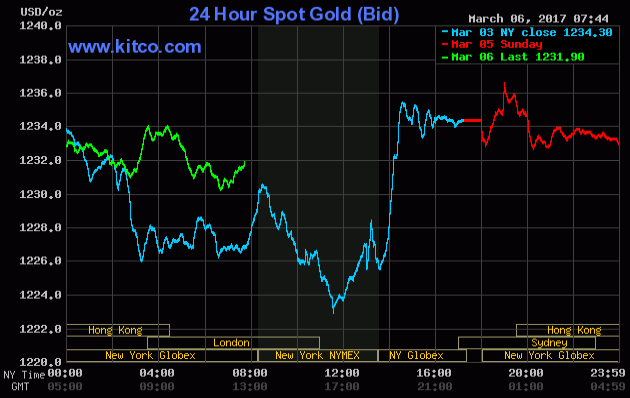 U.S. economic data due for release Monday includes manufacturers' shipments and inventories.
By Jim Wyckoff, contributing to Kitco News; jwyckoff@kitco.com
Follow Jim Wyckoff @jimwyckoff for breaking news.