After a relentless rise for the silver price in 2017, we're finally seeing the metal start to correct.
Silver has soared from $15.75 on Dec. 23, 2016, to $17.87 today (Monday, March 6). That's meant a big 13.5% gain in just over two months, including a small pause in late January.
This kind of winning streak can't continue unabated, and we're currently seeing a second, stronger correction for the price of silver.
Rising inflation expectations, and data confirming those expectations, have underpinned the silver price rally. Trump's recent speech to Congress, which boosted stocks and the U.S. dollar, have also been bearish for silver prices.
Urgent: Buy These Stocks for Huge Profits in 2017
Now, the markets are pricing in a March rate hike by the Fed. That's also caused the dollar to rally and the silver price to fall.
But the Trump stock market rally and surging dollar won't affect the long-term silver price in 2017. That's why I'm going to share with you my bullish 2017 silver price forecast.
First, here's why silver prices declined last week…
Why the Price of Silver Saw a Huge Correction Last Week
Silver prices began the last trading week mirroring gold prices pretty closely. But as the week progressed, silver quickly declined and underperformed gold.
On Monday, Feb. 27, the silver price opened at $18.34 and fell to $18.20 by the afternoon. Interestingly, this happened along with a weakening dollar, which is not typical. From there, silver regained a little strength to close at $18.24 – down 0.9% from the Friday, Feb. 24, close of $18.41.
Tuesday was a near exact repeat of Monday, except silver opened lower at $18.27. Buyers took over and quickly ran it up to $18.41 by late morning, then sellers got the upper hand and dragged the price of silver 0.7% lower to close at $18.29.
The action in silver and the dollar on Wednesday was dominated by Trump's speech to Congress the night before. The speech lit a fire under the dollar and caused the Dow Jones Industrial Average to surpass 21,000 for the first time ever. While that certainly diverted investor interest away from silver and into stocks, the silver price still managed to post a daily gain. It settled 0.5% higher at $18.39.
Editor's Note: An incredibly rare gold anomaly is shaping up in the markets as we speak — one that has occurred ONLY twice in the past 20 years. And it's about to happen again. Details here…
On Thursday, March 2, silver prices had their biggest one-day drop of the year. They opened at a healthy $18.30 but eventually caved to selling pressure as the dollar surged above 102.
Here's a look at the dollar's big rally last week…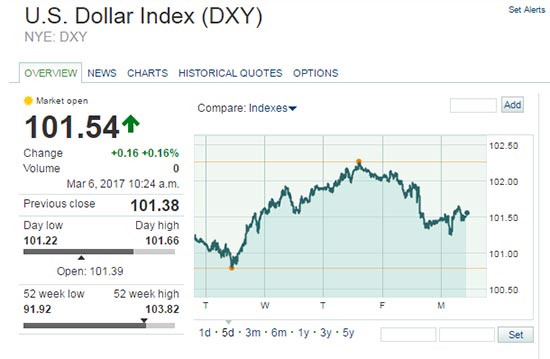 From there, silver prices took a sharp plunge. By early afternoon, they had dropped from $18.31 to $17.71 – an ugly 3.3% loss in just two hours. The price of silver eventually closed at $17.75 for a 3.5% loss on the day.
Friday's price action provided no relief. Silver opened at $17.68 and quickly tested lower levels but bounced back to about the $17.70 level. It eventually reached $17.74 by the close, logging a 0.1% loss on the day but a 3.6% loss for the week.
Again, these weekly short-term losses won't factor into silver's long-term rally. That's because we've identified two momentum indicators that show silver prices rising 24% by the end of the year.
Here's our silver price forecast for 2017…
Silver Price in 2017 Will Hit These Bullish Price Targets
Join the conversation. Click here to jump to comments…
About the Author
Peter Krauth is the Resource Specialist for Money Map Press and has contributed some of the most popular and highly regarded investing articles on Money Morning. Peter is headquartered in resource-rich Canada, but he travels around the world to dig up the very best profit opportunity, whether it's in gold, silver, oil, coal, or even potash.