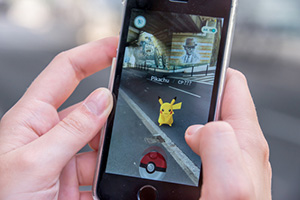 The next big trend in tech is augmented reality (AR), a market that's expected to climb from $657.9 million in 2015 to $80.8 billion by 2022.
And forward-looking investors who are familiar with augmented reality stocks now can cash in on this 12,181% increase in market value.
If you subscribe to Money Morning Profit Alerts, free money-making recommendations delivered in real time, you've already seen some opportunities in the virtual reality (VR) market.
While similar, augmented reality technology has some major differences from virtual reality. And because of the differences, companies are more easily implementing AR technology into their business strategies right now.
Here's how…
The Difference Between Augmented Reality and Virtual Reality
Through VR technology, you enter a "virtual world." Users wear VR headsets and are isolated from reality.
Right now, most VR technology is used for video games.
Want to Make Money? Here's how to make over $100,000 starting with a small amount of money… rolling stocks over and over again. Click here for this proven investing method…
With AR technology, VR and the real world are blended together to allow users to interact with their surroundings.
One of the best-known examples is Pokemon Go. In the game, Pokemon Go players use the cameras on their phones to search for Pokemon. The creatures will pop up on the phone screen in real time.
For instance, if you're taking a hike in the woods, a Pokemon could pop up on the trail you are walking on.
But there's more to augmented reality than just games…
For example, The Coca-Cola Co. (NYSE: KO) used AR technology for a marketing campaign in December 2014. When users downloaded a mobile app from Coca-Cola on their phone and scanned a code, Santa would appear in front of them on their screens.
When shoppers scanned certain Coke bottles in stores, the Coke bottle would be surrounded by snow.
The soda maker has also worked with Cimagine Media (purchased by Snap Inc. [NYSE:
SNAP
] in December 2016) to improve its vending machine sales process.
Originally, sales representatives would need to use photographs to sell fridges, stands, and vending machines.
But with Cimagine Media, Coke can show prospective customers through AR technology where vending machines and other products can be placed in a store. When using the technology, sales representatives had a 92% success rate of making a sale, according to Cimagine's website.
For the AR and VR market, investors already know three of the top tech companies working on the emerging technology:
That's why today, we wanted to provide Money Morning readers with a list of AR companies that aren't publicly traded yet.
Keep in mind, these companies are speculative investments if they ever go public. Since this is still a new technology that isn't yet widely used by the general public, shares of small AR stocks could be extremely volatile.
But knowing the private companies and the advancements they are making is important for tech investors.
Here's everything you need to know about three private companies leading the AR industry…
Augmented Reality Companies to Watch in 2017