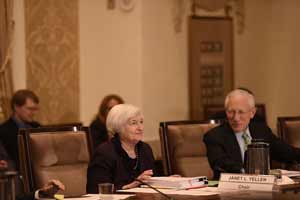 The second FOMC meeting of 2017 will take place next week from March 14-15. And this meeting will have a major impact on some of your valuable investments.
With the inflation rate at a five-year high of 2.5% and the labor market growing stronger, economists across the board believe an interest rate hike is all but certain next week. CME Group reports a 90% probability of a Fed rate hike next week.
A rise in interest rates can have a huge impact on your money. Because the economy is intrinsically tethered to interest rates, most types of investments are also tied closely to them. After all, higher interest rates result in more expensive loans. That causes people to have less money to spend on personal investing.
Here's how the FOMC meeting could influence three of the most popular types of investments if the Fed decides to raise interest rates...
How the March FOMC Meeting Will Affect Stocks
High interest rates don't have a fundamental impact on the stock market. But they can have a dramatic impact on the investors and traders who buy and sell stocks.
A prime example is the two-month period following the December 2015 rate hike. On Dec. 16, 2015, the U.S. Federal Reserve raised interest rates for the first time in 10 years. The rate hike caused investors to panic, which led to an 8.3% plunge in the Dow Jones Industrial Average from Jan. 1, 2016, to Feb. 12, 2016.
Must-See: This Great Depression-Era "Secret" Helped Transform Two Teachers into Millionaires. Read more...
But on a long-term scale, high interest rate environments have historically been a boon for stock prices. When interest rates were at an all-time high of 20% in 1980, the S&P 500 saw an annual return of more than 20%.
Here's how the S&P 500 and interest rates have trended since 1970...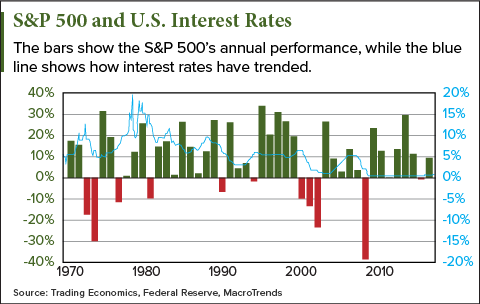 This trend of market rallies has been especially true in the wake of the most recent rate hike on Dec. 14, 2016. Since then, both the S&P 500 and Dow Jones have rallied 4.3% and 5%. While that's largely due to Trump's proposed business deregulation and tax cuts, higher interest rates signal economic growth. That positive sentiment can attract investors who want to bet on the economy to the stock market.
Even if there's volatility after a rate hike on March 15, stocks could see long-term gains from higher rates.
But this next investment has a much more direct relationship to interest rates. That's because the government can manipulate the price of these investments when interest rates rise...