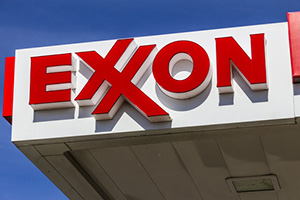 Investors were expecting a Big Oil company like Exxon Mobil Corp. (NYSE: XOM) to soar under the presidency of Donald Trump, but the Exxon-Trump ties are actually sinking the stock...
Exxon stock was a trendy pick once Donald Trump won the presidency. Kiplinger listed it as one of its "Best Stocks for a Donald Trump Presidency" even before former Exxon Mobil CEO Rex Tillerson was nominated as secretary of state.
That's because President Trump consistently pledged to roll back regulations on oil and gas companies during his campaign, and he's already living up to his promises in his first month in office. On Feb. 14, President Trump signed a bill ending a regulation requiring oil companies like Exxon to disclose payments made to foreign governments.
And President Trump is clearly an Exxon fan. According to his FEC financial disclosure, he owns up to $100,000 in shares of Exxon stock. On Monday evening, he praised the company's decision to invest $20 billion in opening new oil refining plants along the Gulf Coast.
"This is exactly the kind of investment, economic development, and job creation that will help put Americans back to work," President Trump said in the White House.
But this Exxon-Trump closeness has been bad for XOM shares. Exxon Mobil stock has sunk 3.7% since Donald Trump was sworn in as president. During the same time, the Dow has climbed nearly 6% as its record-breaking rally continues.
It turns out President Trump's attention to Exxon is only raising questions about the company - and turning off some investors...
Why Trump's Praise Won't Boost the Exxon Stock Price
So far, the president's praise tends to stir up more skepticism than support.
"When President Donald Trump has singled out companies for praise or criticism in the past, it has often raised the question: Why those?" wrote The Wall Street Journal.
On Jan. 3, Trump singled out General Motors Co. (NYSE: GM) for making some of its vehicles in Mexico.
"General Motors is sending Mexican made model of Chevy Cruze to U.S. car dealers-tax free across border. Make in U.S.A. or pay big border tax!" read Trump's tweet.
And in late December, Trump took to Twitter to tell Lockheed Martin Corp. (NYSE: LMT) he was giving rival Boeing Co. (NYSE: BA) a chance to beat its price on a new fighter jet.
"Based on the tremendous cost and cost overruns of the Lockheed Martin F-35, I have asked Boeing to price-out a comparable F-18 Super Hornet!"
But the administration's close ties with Exxon might explain why it singled out the company for praise.
Directly before releasing a statement to the press (taken nearly word for word from an Exxon Mobil announcement made half an hour earlier), the president had a two-hour meeting with Rex Tillerson. During a press conference, State Department spokesperson Mark Toner said the president and Tillerson talked "about foreign policy issues and not Exxon Mobil."
But Toner also indicated Tillerson still owns 600,000 shares of Exxon stock, which he's not required to sell until May 2.
Trending Now: Check Out Our Bold Oil Price Prediction for 2017
As investors, our main focus is how to profit from what's happening. Right now, the Exxon-Trump relationship is one of many reasons to steer clear of XOM.
Instead, there are better, smaller stocks flying under the radar that are going to avoid the major price problem facing Big Oil right now...
Avoid Big Oil Stocks and Go Small