(Kitco News) – World stock markets were lower Thursday, as commodity-linked stocks led selling pressure. U.S. stock indexes are pointed toward slightly lower openings when the New York day session begins.
A feature in the marketplace is the sharp drop in crude oil prices the past two days-the steepest decline in months. Nymex crude oil futures slumped to a three-month low of $48.79 a barrel Thursday morning. There was a significantly bearish technical development in the Nymex crude oil futures market Wednesday. Price action scored a downside "breakout" from a sideways and choppy trading range that had been in place on the daily bar chart, and which had contained oil prices since late last year. The bearish chart action in crude oil Wednesday suggests more downside price potential in the near term. Given that crude oil prices are arguably the leader of the raw commodity sector, Wednesday's bearish downside breakout is also a big negative for the raw commodity sector.
The other key outside market on Thursday m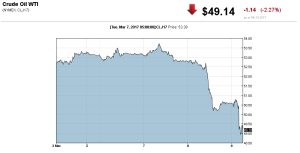 orning sees the U.S. dollar index again trading higher. The dollar index is in a price uptrend and has benefitted recently on increasing ideas of a U.S. interest rate hike coming next week. The stronger greenback is also bearish for most raw commodity markets.
Gold prices are lower and hit another five-week low Thursday. The gold market bears have gained good downside technical momentum amid the recent sell-off.
Thursday the European Central Bank holds its regular monetary policy meeting and is likely to give new insight regarding its ongoing quantitative easing of monetary policy. As usual, ECB President Mario Draghi's press conference after the meeting will be closely scrutinized.
In other overnight news, China's consumer price index was reported up 0.8% in February, year-on-year, following a 2.5% rise in January. China's producer price index was up 7.8% in February, year-on-year, versus a number of up 6.9% in January.
Arguably the most important economic report of the week is on Friday–the U.S. employment report for February from the Labor Department. The key non-farm payrolls component of the report is forecast to come in at up around 220,000 workers. That number has just been revised up by about 30,000 after the strong ADP report on Wednesday.
The marketplace is also looking forward to next week's FOMC meeting, at which time the Federal Reserve is fully expected to raise U.S. interest rates by 0.25%.
U.S. economic data due for release Thursday includes the weekly jobless claims report, the Challenger job-cuts report, and import and export price indexes.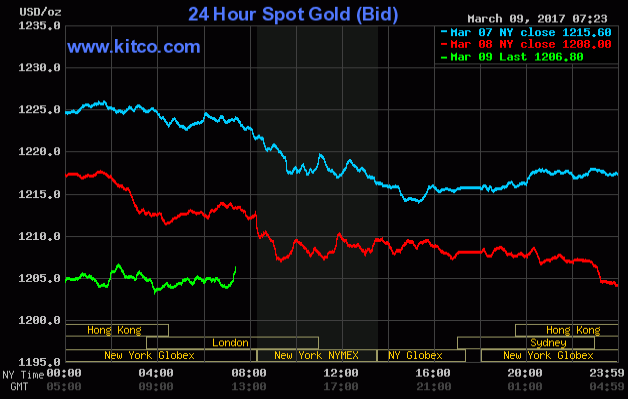 By Jim Wyckoff, contributing to Kitco News; jwyckoff@kitco.com
Follow Jim Wyckoff @jimwyckoff for breaking news