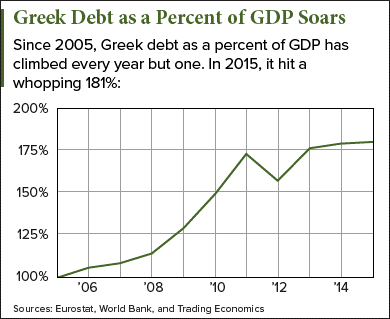 Greece is running out of money. Now with a debt repayment of €8.26 billion ($8.74 billion) due in July, the economic crisis in Greece could have a major impact on the portfolios of investors around the globe.
While investors in the United States may think they're insulated from this problem, the Greek debt crisis hits much closer to home than many realize. This level of crisis affects markets on a global scale.
Greece's debt load has skyrocketed since the Great Recession in 2008. While three bailouts have helped the country pay its bills, they have also piled on debt, which stands at $356 billion. This figure brings Greece's debt to a staggering 181% of its GDP.
To make matters worse, the requirements placed on Greece to receive bailout money is stifling its economy.
While most developed countries are seeing signs of economic recovery, Greece is still attempting to claw its way out of the recession.
What's Fueling the Economic Crisis in Greece?
Greece's descent into chaos started well before the global economic crisis.
As a member state of the European Union (EU), the country has to maintain a deficit of less than 3% of its GDP. Leading up to the 2008 financial crisis, Greece was lying about its deficit because it exceeded the 3% maximum. When the global economy was hit by the recession, Greece experienced a sharper decline than stronger European countries like Germany.
Germany's GDP declined in 2009 to $3.4 trillion from $3.7 trillion. But by 2011, Germany's GPD was already back to pre-recession levels.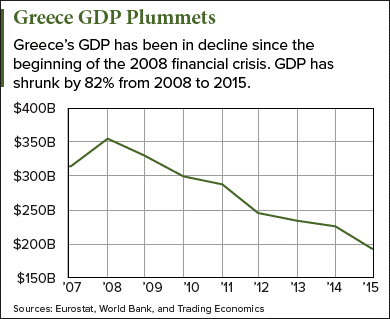 On the other hand, Greece's GDP has been in a downward spiral since the 2008 Great Recession began.
By the time Greece released its true budget deficit of 12.5% of GDP in October 2009, it desperately needed a bailout.
In order to receive bailout funds from the EU and the International Monetary Fund (IMF), austerity measures had to be implemented by Greece.
These measures sought to cut government spending, which contributed to 54% of the GDP in 2009, and tighten lax tax laws.
In two years (2010-2012), Greece implemented seven austerity packages that cut spending and raised taxes.
The aim was to help Greece get its financial house in order. However, those packages have caused shrinking GDP and rising unemployment.
When Greece cut government spending, it laid off thousands of people and increased the retirement age for pension benefits. Between 2008 and 2012, Greece cut over 16% of employees. This caused the economy to shrink.
Between the cut in government spending and the tax hikes, unemployment skyrocketed to almost 30% in 2013.
Since that time unemployment rates have improved, but they remain over 20%.
Editor's Note: If you would like to see a more detailed timeline of the Greek debt crisis, you can find it here...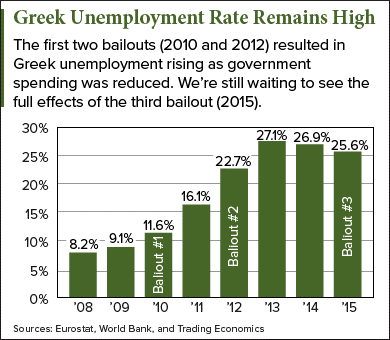 That shrinking GDP and high unemployment rate mean Greece has a shrinking tax base. This creates problems as the country needs to keep cutting spending to meet the budget surplus demands of Germany and the IMF.
And that's what leads us to the current volatility.
Greece's debt as a percent of GDP keeps soaring in part because GDP is shrinking. The next loan payment is due in July, and because of decreasing revenue, the country cannot pay.
The IMF and Germany have been in talks with Greece about how to resolve its economic issues, but the country's creditors are on opposite sides.
Germany wants more austerity measures for Greece despite its decreasing GDP and high unemployment. The IMF wants to trim Greece's debt, relax austerity rules so that Greece can stimulate its economy, and extend loan due dates.
This showdown could cause markets to tank as the default date approaches. And that will have a major impact on portfolios across the world. That's why we've developed the following plan to protect your money from this global debt crisis...
Protect Your Money from the Economic Crisis in Greece