Activist billionaire and Dallas Mavericks owner Mark Cuban just offered his two cents in the Obamacare replacement debate.
Cuban posted his healthcare ideas on Wednesday via his website, Blog Maverick, two days after members of the House GOP released their official proposal to replace the Affordable Care Act (ACA).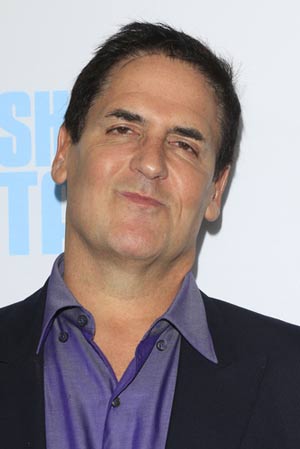 The House Republicans' plan has since been endorsed by President Donald Trump but rejected by a conservative niche group of congressional members - the "House Freedom Caucus" - who believe the latest proposed strategy to replace the ACA is tantamount to "Obamacare Lite" or "Obamacare 2.0."
Cuban rebuffed all Republicans in one fell swoop by touting single-payer coverage as the way to fix healthcare. Single-payer coverage would make the state responsible for healthcare costs instead of private insurers. No Republicans back the strategy.
Want to make money? Here's how to make over $100,000 starting with a small amount of money... rolling stocks over and over again. Click here for this proven investing method...
Cuban also proposed using "free market insurance" plans for all other healthcare issues, where patients and healthcare providers would set the prices for medical goods and services themselves (with Uncle Sam's intervention) according to the laws of "supply and demand."
Then he included a unique proposal for how legislators can drop exorbitant insurance premiums for Americans...
How Mark Cuban Wants to Lower Insurance Premiums
[mmpazkzone name="in-story" network="9794" site="307044" id="137008" type="4"]
Here's what the "Shark Tank" star wrote on Blog Maverick:
Whether it's Medicaid or a new program, every single person in this country should be covered 100% for chronic physical or mental illness and for any life-threatening injury.
The premiums that we are paying to insurance companies as individuals or as company coverage for these significant risks would go from the insurance companies to the IRS. Only the cost of covering what's left would continue being paid to the insurance companies.
It would not be hard to do the math. Every insurance company does this analysis already. The government does this analysis already. We all would end up paying more in taxes, but less in insurance and healthcare costs over time.
There would be no mandates. There would be no individual penalties.  No tax credits. No subsidies. No offsets or deductions for buying higher end insurance. This will be single payer (yes, I know it's a dirty phrase in this country) for chronic physical or mental illness and for any life threatening injury.
Everything not covered by the above can be covered by insurance sold on the free market, managed by the states, sold across state lines, without government interference.
After posting these healthcare ideas, Cuban then took to Twitter, asking readers to "shoot holes" in them.
His reason for inviting mass criticism was a simple one: "I'm not a healthcare policy expert," he wrote.
It should be noted, however, that Cuban may be entering the Obamacare debate for a very specific reason: During a Sloan Sports Analytics Conference panel discussion on March 4, Five Thirty Eight's Nate Silver asked Cuban if he was considering running for president in 2020 against Donald Trump.
Cuban's answer: "I'll get back to you on that."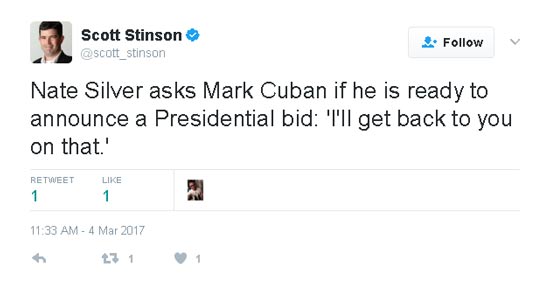 Follow us at @moneymorning or on Facebook.
Related Articles: