This list shows the 10 largest penny stock gains of the month so far…
| | | |
| --- | --- | --- |
| Penny Stock | Current Price | March 2017 Gain |
| Ocera Therapeutics Inc. (Nasdaq: OCRX) | $1.37 | +107.6% |
| Rennova Health Inc. (Nasdaq: RNVA) | $2.63 | +46.1% |
| QuickLogic Corp. (Nasdaq: QUIK) | $2.16 | +37.6% |
| BioScrip Inc. (Nasdaq: BIOS) | $1.98 | +31.1% |
| Adamis Pharmaceuticals Corp. (Nasdaq: ADMP) | $4.47 | +29.6% |
| Strongbridge Biopharma Plc. (Nasdaq: SBBP) | $3.80 | +28.8% |
| Pieris Pharmaceuticals Inc. (Nasdaq: PIRS) | $2.60 | +27.5% |
| Regulus Therapeutics Inc. (Nasdaq: RGLS) | $1.33 | +26.7% |
| Bellerophon Therapeutics Inc. (Nasdaq: BLPH) | $1.75 | +25.9% |
| ParkerVision Inc. (Nasdaq: PRKR) | $2.61 | +23.7% |
The top penny stock of March – Ocera Therapeutics Inc. – has skyrocketed 107.6% in just the first seven trading sessions of the month alone. For comparison, that's more than 18 times the Dow Jones Industrial Average's gain of 5.8% over the last three months.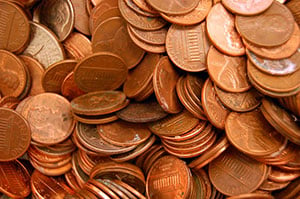 Those incredible returns are why we like to bring you a weekly roundup of companies with the largest penny stock gains.
As a reminder, this is just a list of the best-performing penny stocks. We don't recommend investing in any of these companies – instead, this is just a watch list.
This Stock Is About to Skyrocket: This tiny $5 company just passed each of the seven benchmarks in this secret stock-picking method. Learn how to get in before its revenue surges an estimated 4,709%. Read more…
Luckily, Money Morning Chief Research Analyst Sid Riggs has already done the research and found a small-cap stock that's set up for big gains in 2017. Although this company trades above the SEC penny stock cut-off of $5 per share, Riggs – an expert at identifying small-cap stocks with huge long-term potential – says this company is worth the few extra dollars for two important reasons…
It has a strong presence in several multibillion-dollar markets, including military defense and digital media.
It just smashed Q4 earnings expectations by a huge 86%.
Here's the best small-cap stock to buy in 2017…
Buy This Company for Big Penny Stock Gains in 2017