We just found the best gold stock to buy in 2017 that could soar 91.8% in the next 12 months.
Our Money Morning experts are confident in this stock because it's a gold mining company whose profits will likely soar as gold prices continue their huge rebound. So far in 2017, the price of gold per ounce is up 4.5% to $1,203. Not only that, but Money Morning Resource Specialist Peter Krauth also expects the rally to continue.
In fact, he sees the gold price rising to $1,400 by the end of this year. That's an additional 16.7% from the current price.
Rising gold prices mean the gold mining sector will be positioned for huge profits. After all, a high gold price means gold mining companies make more money on each ounce sold.
And the top gold stock we're recommending today is one of the most dominant gold miners in the world.
Before we discuss our best gold stock pick, here are the two reasons why the price of gold will rise in 2017...
2 Reasons Why Gold Prices Will Climb to $1,400 This Year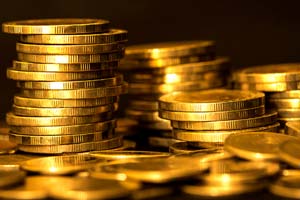 The first reason is inflation. The annual rate of inflation is currently at 2.5% - the highest it's been in the last five years. And it could keep advancing if the stock market and the 10-year Treasury note keep climbing.
When the stock market soars, inflation is something of a byproduct. Big advances in stock prices negatively impact the U.S. dollar's purchasing power. That's not a good thing for the U.S. economy because it leads to less spending on goods and services.
One of the U.S. Federal Reserve's goals is to keep a damper on inflation. It does this primarily by raising interest rates. In mid-December, the Fed raised rates for the first time in a year.
This has also caused the 10-Year Treasury note yield to climb. In the past three months, it has increased from 2.4% to 2.6%.
Like the rising stock market, rising bond yields generally boost the inflation rate, which is currently at its highest level since January 2012.
A high inflation rate is dangerous because it hikes the prices of everything across the general economy. These include luxuries as well as human necessities like food and shelter.
What do people invest in when they see high inflation looming on the horizon? They buy gold because its safe-haven qualities allow it to act as a hedge against market volatility.
As people turn to gold to protect themselves from rising inflation, demand will inevitably climb. And as we all know, demand increases prices. That's why rising inflation will help push gold prices in 2017 to $1,400 per ounce.
The second reason for a gold price rally is declining shorts on gold stocks. When traders buy a short position on a stock, it's because they believe the stock is going to drop in the future. When a stock drops, the holder of the short bet makes money. A large number of short bets in the gold market shows that traders don't expect the price of gold to rise anytime soon.
But the amount of short positions bought on gold stocks has been going down since the start of 2017. The Gold Bugs Short Index - which monitors short selling on a basket of gold miners - is down 1.7% year to date.
In short, trader sentiment on gold prices is bullish. That means now is a good time to buy long positions in gold stocks.
And today's pick happens to be the best gold stock to buy this year. The company has 10 mining sites across South America, Central America, Canada, and Mexico. Not to mention it has an extremely low operating cost, meaning it has higher profit margins.
Here's our gold stock pick...
The Best Gold Stock to Buy in 2017 Could Hand You a 91.8% Return
[mmpazkzone name="in-story" network="9794" site="307044" id="137008" type="4"]
Our gold stock recommendation is mining company Goldcorp Inc. (NYSE: GG).
Goldcorp is the world's fourth-largest gold producer. According to its 2016 annual report, the company produced 2.87 million ounces of gold last year.
One reason why GG stock is a great investment is the company's very low all-in sustaining cost (AISC). It's one of the lowest in the sector, at a price of $856 per ounce. That means Goldcorp spends only $856 to produce one ounce of gold. Considering gold prices currently hover at $1,203, that's a very strong margin of $347.
As the price of gold advances to $1,400 this year, the profit margin will just get wider and wider. That's good news for investors holding GG stock over the long term.
But the biggest reason why Money Morning Executive Editor Bill Patalon loves GG stock is because of its crowdsourcing success.
You see, Goldcorp opened its geological databases to the public in 2000. It opened them so that people could choose mining sites based on their own assessment of the potential. Out of the 110 sites chosen, 88 contained large deposits of gold.
That means Goldcorp has had 88 sites to mine over the last 17 years. Its strong mining operations will strengthen its bottom line as its AISC remains low and gold prices rise to $1,400.
An analyst survey by Yahoo Finance shows a high one-year price target of $28 for GG stock. From the current share price of $14.60, that's a whopping gain of almost 91.8%.
Goldcorp's potential for a nearly triple-digit return proves it could be the best gold stock of 2017.
Rare Gold Anomaly: The first time it created $1.25 billion in new wealth virtually overnight. The second time, it created a cash windfall of $6 billion - both times making in-the-know investors flat-out millionaires. And it's about to happen again, only this time we expect the cash windfall to reach $13 billion. If you take advantage of this rare gold anomaly right now, you, too, could walk away a millionaire. Details here...