I played basketball in high school long before I was an engineer or a trader. Our archrival was Blacksburg High - the nemesis in what was our biggest game of my senior year.
A guy called Mark was guarding me throughout this game. He was a good player and excellent all-around athlete; he was certainly bigger, faster, and stronger than I was.
But Mark didn't know I had one killer advantage. I practiced basketball. A lot. Especially my signature "crossover" move - a fake in one direction followed by a quick step in the other direction, so you cross over in front of your man in a way they're not expecting.
I drilled so consistently and thoroughly on this move, I could pull off a perfect, devastating crossover in my sleep, if I do say so myself.
So when the time came, I easily left this bigger, faster, stronger player in the dust to make a fourth-quarter layup that gave our team the lead for good.
Today, as a trader and investing educator, I'm here to tell you that making your first million in the markets isn't a bit different from making the trip "all the way to the net."
I'm going to show you how my approach "scored" four triple-digit gains in a little over two hours one day, just a few of the 16 triple-digit profit paychecks I've recommended for my trading service readers in 2017.
Execute your trades the same way, and you'll make layup after extremely profitable layup with your own money.
You Could Make Your First (or Next) Million Exactly Like This
As with many things in life, investing and trading in a systematic, consistent way gives you the best shot at reliable, superior returns - and quick ones, too. It allows us to filter out the "noise" that causes emotional reactions (XYZ is hot! Don't miss out! Chase that bid!), and stick to our game plan time and again.
And some days, like Monday, Feb. 13, 2017, doing the right thing over and over again can pay off in a huge way.
That was the day my Stealth Profits Trader service readers closed out four triple-digit gains - including two of 200% - in just over two hours.
The truth is, banking these monster wins wasn't all that difficult. They all came from one simple idea.
Here's how it all went down.
In sequence, the trades paid off like this:
At 9:31 a.m., our X Feb. 24, 2017 $34 calls options hit their second profit target. We pocketed a 112.6% win in just 11 trading days.
At 9:36 a.m., our PNC Feb. 17, 2017, $115 calls options play hit their third profit target in just 17 trading days. For our third target, we secured a 200% win.
At 11:07 a.m., our X Feb. 24, 2017 $34 calls options play continued its winning streak and hit its third profit target. We secured another 200% win.
Finally, at 11:41 a.m., our CME March 10, 2017, $119 calls options play hit its first profit target for an impressive 107.3% win in just two trading days.
With that profitable 130-minute stretch in mind, let's look at how it happened.
[mmpazkzone name="end-story-hostage" network="9794" site="307044" id="138536" type="4"]
You remember that from mid-December until late January we had a period of mind-numbing sideways action in the major U.S. stock indexes.
While we were close to all-time highs, markets were stuck in a sideways channel with minimal movement either up or down. Traders call this plodding along "at the top of the page."
My overarching thesis, or narrative, was that we'd break out of the sideways grind with a move to the upside. This was based on the surprising strength of global stock markets that were playing catch-up after the U.S. stocks saw such a strong post-election rally. So we positioned ourselves to capture big gains in several stocks if and when the market followed my expected narrative.
Because it pays huge, consistent profits, my favorite strategy for this type of market is to buy strong stocks from strong sectors when they pull back to intermediate extremes.
Here's how that played out in United States Steel Corp. (NYSE: X), a stock that benefitted from being in the infrastructure improvement area: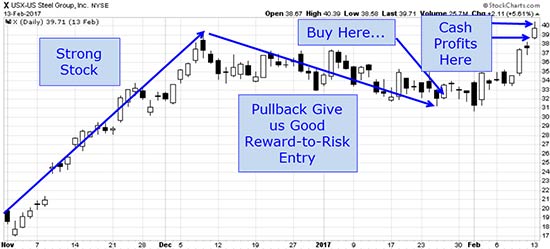 In addition to infrastructure, I was bullish on the financial sector, so we also bought into a strong regional bank, PNC Financial Services Group Inc. (NYSE: PNC), and a commodities exchange, CME Group Inc. (NYSE: CME).
Let's look at the bank first: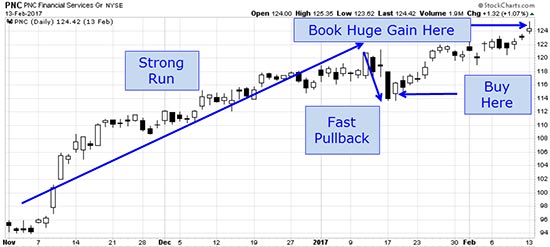 PNC reported strong earnings and good revenue the day before Morgan Stanley reported weak earnings. Into this mix came some negative comments from Trump about dollar strength, and both news items sent the banking sector down - for a day.
This gave us a great opportunity to buy a strong regional banking stock on a pullback. We were rewarded when this smaller regional player outperformed the bigger banks as the market broke to new highs.
Now let's look at the commodities exchange, CME Group, the world's largest mover of commodity futures contracts: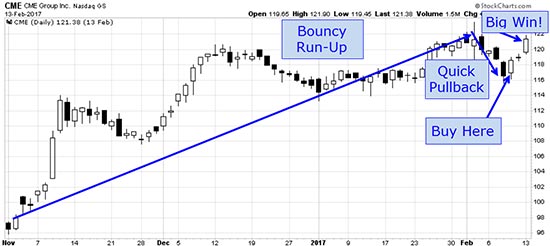 This one only took two days to reach our first profit target.
What's more, CME moved on to cash a 220% win a couple of weeks later as well.

It bears repeating that these gains all piled up in one morning, but in the 45 trading days so far in 2017, we've closed out 16 triple-digit profit plays, some even bigger than the ones I just showed you.
Notching up wins like this on a regular basis is great, but learning how to make money like this can be an absolutely life-changing, millionaire-minting move.
The Simple Secret to Building Extreme Wealth
Now, lots of us have grown up with the belief system that achieving millionaire status is something that can only be achieved by good luck, inventing something amazing or slogging through decades of pinching pennies.
Not true.
Like I just showed you, you can make huge money using some of the laziest, most underperforming stocks you might own, in 10 minutes a day, with the consistent application of sound trading principles.
This approach has, quite literally, made me a millionaire; luck, inventiveness, and tedious scrimping had nothing to do with it. It's how I was able to leave chemical engineering (and yes, sadly, high school hoops) to pursue my dream of becoming a full-time trader and educator. Most weeks I make everything I have to make in a few hours, a day or two at most, and I'd be willing to bet quite a few of my readers might do the same.
I call this systematic method The 10-Minute Millionaire, and I've just recently opened it up to everyone, at no charge. You can click here to start getting my free, twice weekly updates yourself.
Follow Money Morning on Facebook and Twitter.
About the Author
D.R. Barton, Jr., Technical Trading Specialist for Money Map Press, is a world-renowned authority on technical trading with 25 years of experience. He spent the first part of his career as a chemical engineer with DuPont. During this time, he researched and developed the trading secrets that led to his first successful research service. Thanks to the wealth he was able to create for himself and his followers, D.R. retired early to pursue his passion for investing and showing fellow investors how to build toward financial freedom.