While on the campaign trail, then presidential hopeful Donald J. Trump promised he would never make Medicare or Social Security cuts if elected.
"Save Medicare, Medicaid, and Social Security without cuts. Have to do it," Trump stated at a rally on June 16, 2015, the day he announced his presidential bid.
"We're going to save your Social Security without killing it like so many people want to do. And your Medicare," Trump promised attendees at a July 2016 rally in Phoenix.
But just a little more than a month after winning the election, Trump nominated Rep. Mick Mulvaney (R-SC) as director of the U.S. Office of Management and Budget (OMB).
The move raised eyebrows for those closely following Social Security and Medicare policy.
You see, Mulvaney is a staunch supporter of cuts to entitlement programs — especially Social Security and Medicare.
In fact, on Monday Mulvaney told the media he is devoted to changing Trump's mind…
Mulvaney Promises "Brutal Honesty" to Sway Trump on Social Security Cuts
Mulvaney told conservative radio host Hugh Hewitt on Monday that he's been trying "to socialize the discussion" about entitlement program reform around the White House, The Washington Post revealed that same day. Mulvaney said he's been promoting such discussions in an effort to highlight how Social Security and Medicare are the federal government's biggest fiscal problems.
And to that point, the new budget chief has a point…
Don't Miss: This Great Depression-Era "Secret" Helped Transform Two Teachers into Millionaires
Social Security and Medicare together accounted for 41% of federal expenditures in fiscal year 2015, according to SSA.gov's summary of the 2016 annual reports released last June.
Social Security is, in particular, looking like it will run out of money by 2034. Over the program's 82-year history, it had, by the end of 2015, collected roughly $19 trillion from taxes… but it had also paid out $16.1 trillion in benefits. This left a little more than $2.8 trillion in the program's asset reserves – again, at the end of FY2015.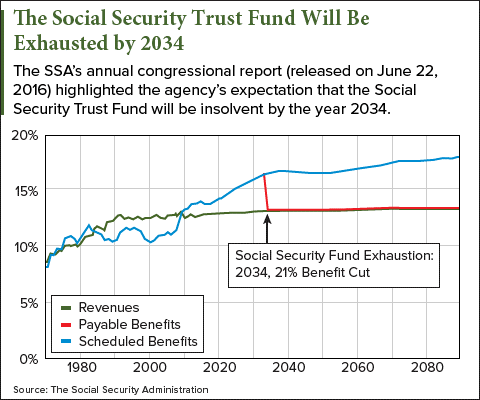 The Social Security Administration's (SSA) trustees project an even direr outcome when it comes to Medicare…