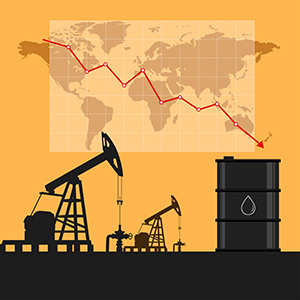 Why Oil Is Down: WTI crude oil prices plunged 8% this week, from $53.20 a barrel on Monday to a low of $49.05 today (Thursday, March 9). The shocking fall caught investors by surprise, so we're addressing this week's plunge, along with what is next for oil prices in 2017.
Oil is down this week thanks to the EIA's weekly U.S. crude oil inventory report, which was released on Tuesday. The report showed oil inventories jumped by 8.2 million barrels last week. That was 400% higher than traders expected. S&P Global Platts predicted an increase of only 1.6 million barrels.
The EIA report also came right after Khalid al-Filah, Saudi Arabia's energy minister, cautioned the annual CERAWeek conference that OPEC won't prop up oil prices if it isn't helping Saudi Arabia any longer.
Trending Now: Natural Gas Prices Will Soar Double Digits in 2017
That has investors concerned the oil supply glut that crashed oil prices last year is coming back. The supply glut caused the price of oil to crash from over $100 a barrel in 2014 to a low of $26.68 in January 2016.
But the real story behind this week's oil price drop is a battle between American oil and OPEC…
You Have to Understand OPEC to Know Why Oil Is Down
OPEC members need higher oil prices to fund their governments, but higher oil prices also mean American shale oil becomes much more profitable.
You see, the way the cartel raises oil prices is by agreeing to cut production. This reduces the global supply of oil and pushes up prices.
On Nov. 30, 2016, OPEC and 11 other countries agreed to cut production for the first time since 2008. The agreement to cut oil production by 1.8 million barrels sent oil prices rocketing 15% by the end of the year.
But with oil prices back above $50 a barrel, American shale oil is suddenly profitable again. And production is soaring.
According to the Baker Hughes rig count, American producers have added 135 rigs since the OPEC deal on Nov. 30. That's led to more American oil entering the market. The EIA forecasts U.S. shale production growth to double this month alone. That might be conservative in light of the recent inventory figures.
The result is that OPEC is cutting oil production to boost prices, but American drillers are boosting production to take advantage of the higher prices. Something has to give.
But you don't have to worry about tanking oil prices. Our 30-year industry insider recently revealed his newest crude oil price prediction for 2017.  Here's the full analysis on why we see crude oil prices climbing double digits by the end of 2017…
Follow Money Morning on Facebook and Twitter.