The gold price in 2017 has taken a dramatic fall recently.
Since the beginning of March, gold prices are down 4.3% to $1,200. In fact, the metal has declined every single day this month for eight consecutive sessions.
But frankly, it should not come as a surprise. At least, not if you've been following me in this space.
After all, I've been talking about how the gold price had likely moved into overbought territory and that it was ripe for a correction.
And the combination of a pending interest rate hike and a rallying dollar have teamed up to send the price of gold into this sell-off.
By now, you know the Fed is all but certain to raise rates next week. Actually, I've been impressed with gold's resilience in the face of the expected rate hike and stronger dollar.
Sign up for SMS so you never miss special events, exclusive offers, and weekly bonus trades.
My sense is, given the depth of this sell-off, we've likely seen the worst. There could be a little downside left, but I don't think much.
Once the Fed confirms its rate hike, I think gold will return to rally mode. I've adjusted my gold price targets to reflect the latest movements, and I'll share those with you today.
First, let's take a look at what exactly happened to gold this week...
Why the Price of Gold Has Fallen 2.8% This Week
After closing at $1,234 on Friday, March 3, the gold price opened lower on Monday as the U.S. dollar began to rally. The metal ended the day 0.7% lower at $1,225.
On Tuesday, March 7, gold prices continued to decline. They opened at $1,222 and worked their way lower to close at $1,216 for a 0.5% loss.
Wednesday saw another rally in the dollar, which took the U.S. Dollar Index (DXY) from 101.75 to 102.2. That naturally incentivized gold traders to sell gold, dragging the gold price 0.7% lower to $1,208 on the day.
This chart shows just how the dollar has trended this past week: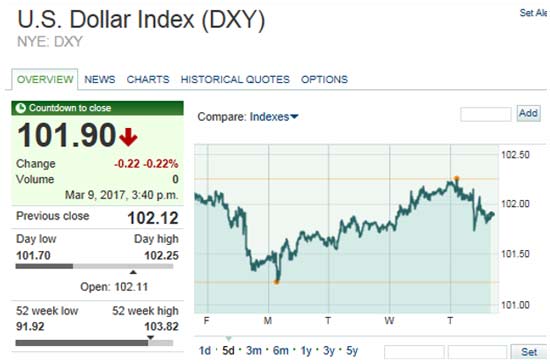 Even the DXY's backtracking on Thursday was not enough to attract gold buyers. The price of gold fell 0.4% to settle at $1,202.
As of 9:45 a.m., the gold price today (Friday, March 10) is down 0.2% to $1,200. That puts it on track for a weekly loss of 2.8%.
Although gold's losing streak has scared many investors into selling, I still maintain that the long-term picture is much more bullish.
Here's my gold price forecast for the rest of the year...
My High Targets for the Gold Price in 2017