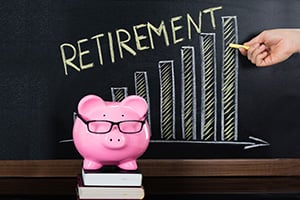 There's a showdown right now as to which generation faces the most difficult retirement problems: millennials or baby boomers? This is a battle each side wants to win...
On one hand, baby boomers -- those born between 1946 and 1960 -- are still feeling the effects of the Great Recession.  According to the Transamerica Center for Retirement Studies (TCRS), 70% of boomers were impacted and have not yet recovered from the epic collapse of the $8 trillion housing bubble. And that's left 48% of boomers who aren't on track to be able to afford basic expenses in retirement, according to a 2013 Fidelity Investment report.
On the other hand, 46% of millennials -- those born between 1982 and the early 2000s -- were either not impacted or have fully recovered from the Great Recession. And 33% of millennials even go so far as to say they expect their standard of living to increase when they retire; only 7% of baby boomers expect the same.
But that's not to say millennials aren't without their financial woes, too...
Millennials are the first generation in U.S. history to enter adulthood in worse economic shape than their parents. Unemployment is higher than it was for their parents at the same age, and they have greater student debt. Total U.S. student debt hit a record $1.31 trillion in 2016, according to the Federal Reserve Bank of New York -- meaning 38% of individuals graduating in 2015 had an average debt of $31,000.
So which generation is set up worse for retirement: baby boomers depleted by the Great Recession, or millennials crippled by student debt?
Retirement Problems: Social Security Is Failing
Social Security will soon start paying out more benefits than it receives in contributions, and that will have a significant impact on each generation's ability to retire.
According to a 2015 report from the Social Security Administration, the Social Security trust is on track to be depleted by 2034. This means Social Security beneficiaries will only receive 79% of their benefits. By 2098, that number will dwindle down to 73%.
Because of this, only one in three (33%) baby boomers expect Social Security income (SSI) to be their primary source of retirement income. Just 17% of millennials expect the same.
In order to combat failing Social Security, millennials have begun saving at a median age of 22 -- 13 years earlier than their boomer counterparts.
While saving earlier for Social Security will help millennials achieve better financial security, the way they are saving differs greatly from baby boomers...
Retirement Problems: I Can't Afford to Retire
When asked "at what age do you expect to retire," a staggering 66% of baby boomers said either after the age of 65 or not at all. That's in comparison to millennials, where only a mere 40% plan on retiring after 65 or not at all, according to a 2016 TCRS survey.
That's largely because, as we previously noted, baby boomers were hit with one of our worst financial crises since the Great Depression at a critical time in their retirement saving.
And even when baby boomers retire, they still don't feel as if they will have enough saved for retirement. When asked what their biggest retirement fear is, 53% of the generation said "outliving my savings and investments," according to the same survey.
Urgent: Feds use obscure loophole to threaten retirees. If you have a 401(k), IRA, or any type of retirement account, this could cause you to miss out on $68,870 or more. Learn more...
But it seems these fears carry across generational lines. When asked the same question, 49% of millennials are also afraid of outliving their savings and investments...
That's roughly half of both generations.
So today, we're sharing Money Morning Capital Wave Strategist Shah Gilani's free three-step plan for retiring on time and with plenty of money.
Shah's 3-Step Plan for Retiring on Time -- and with Plenty of Money