(Kitco News) – Stocks in Asia and Europe were mostly higher Friday, on trader and investor enthusiasm that global economic growth is picking up, which will prompt the major central banks of the world to rein in their heretofore loose monetary policies. The steep sell-off in crude oil prices also stabilized Friday, which assuaged market participants. U.S. stock indexes are pointed toward slightly higher openings when the New York day session begins.
Gold prices are lower again Friday, fell below the key $1,200.00 level, and hit a five-week low, to continue a steep two-week-old downdraft.
Arguably the most important economic report of the week is out shortly–the U.S. employment report for February from the Labor Department. The key non-farm payrolls component of the report is forecast to come in at up around 220,000 workers. That number has been revised up by about 30,000 after a strong ADP jobs report on Wednesday. Trading in many markets could be volatile in the immediate aftermath of today's jobs report.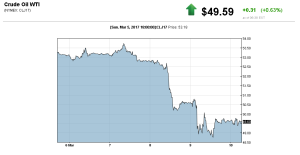 A feature in the world marketplace late this week has been the sharp drop in crude oil prices-the steepest decline in months. Nymex crude oil futures slumped to a three-month low of $48.59 a barrel Thursday. Price action this week has scored a very bearish downside "breakout" from a sideways and choppy trading range.
Another feature this week is higher U.S. and world bond market yields, on notions that inflationary price pressures are rising in the world's major economies, which provides further evidence the major central banks will have to tighten their monetary policies. European bond yields were also boosted in part on a less-dovish tone on European Union monetary policy delivered by European Central Bank President Mario Draghi on Thursday.
Reports Friday said China's central bank chief has indicated he will now keep a tighter grip on credit to avoid fostering asset bubbles. This is a change of policy that had seen the People's Bank of China promulgate an expansionary monetary policy over the past few years.
The other key outside market on Friday morning sees the U.S. dollar index trading near steady, ahead of the important U.S. jobs report. The dollar index is in a price uptrend and has benefitted recently on increasing ideas of a U.S. interest rate hike coming next week.
The marketplace is also looking forward to next week's FOMC meeting, at which time the Federal Reserve is fully expected to raise U.S. interest rates by 0.25%.
Other U.S. economic data due for release Friday includes the monthly Treasury budget statement.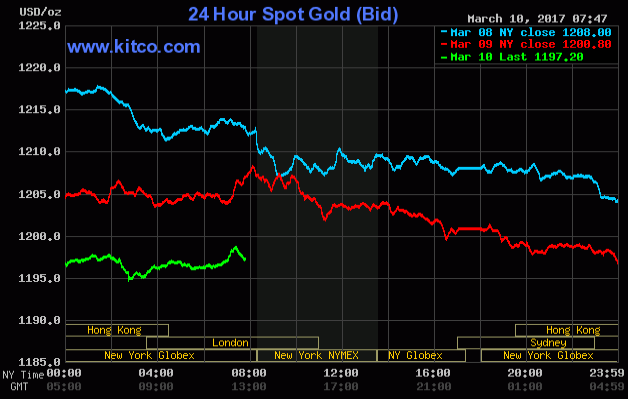 By Jim Wyckoff, contributing to Kitco News; jwyckoff@kitco.com
Follow Jim Wyckoff @jimwyckoff