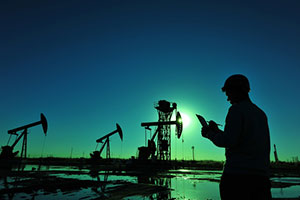 The best oil company stocks of 2017 have explosive profit potential, and the recent dip in crude prices makes them a bargain to buy right now...
Investing in oil can be intimidating for many traders. Futures contracts can be volatile and influenced by breaking news. But passive investing, like buying an oil ETF, just doesn't bring worthwhile returns. The largest oil ETF, the United States Oil Fund LP (NYSE Arca: USO), has sunk 11% already this year.
But by investing in the right oil company stocks, you can make double-digit profits this year.
In fact, Wall Street analysts are predicting one of our oil stocks will rocket 25% higher this year.
And we actually think that's on the low end of its potential.
We'll show you the best oil stocks to buy in just a minute, but before we get to that we want to show you why oil investing is going to be so lucrative this year...
Owning the Top Oil Stocks Will Make 2017 Profitable
There are three major reasons 2017 will be a great year for oil stocks.
First, the November 2016 OPEC agreement will help lift the price of oil.
The agreement stipulates that OPEC and 11 other participating countries will cut oil production by a combined 1.8 million barrels a day to a total of 32.5 million barrels a day. This will boost oil prices by cutting the supply of oil to world markets.
This is OPEC's first production cut since 2008, and it has oil investors excited. That's why oil prices jumped 15% between Nov. 30 and the start of the production cut on Jan. 1.
Money Morning Global Energy Strategist Dr. Kent Moors says if OPEC keeps this deal in place, prices will rise throughout the year. And so far OPEC is reporting a compliance rate of 94%. That's great news for oil prices.
Don't Miss: Our Bold Oil Price Forecast for 2017...
Second, the global demand for oil is consistently getting stronger.
The EIA is forecasting demand for energy to rise 25% by 2040. According to their report, China and India will be the largest drivers of increased demand. Both countries are seeing huge population growth and increased development, making energy a key need going forward.
And oil is going to continue to be the primary source of energy, even as demand grows.
Exxon Mobil Corp.'s (NYSE: XOM) 2017 "Outlook for Energy" forecasts global energy demand through 2040. The report concludes that oil will remain the primary source of global energy through 2040.
That means oil isn't going to be replaced by alternative energy any time soon. And growing demand means prices are going to rise, especially as OPEC attempts to constrain the supply of oil. That will ensure a profitable future for well-managed oil company stocks, just like the stocks we'll show you below.
Third, the new Trump administration is helping the oil and gas industry.
President Trump campaigned on a pledge to make "America energy independent" by cutting regulations on oil and gas companies. And through the first month of his presidency, he's been living up to his words.
Trending Now: Natural Gas Prices Will Soar Double Digits in 2017
President Trump appointed former Oklahoma Attorney General Scott Pruitt to run the EPA. Pruitt became a nationally recognized figure for his lawsuits against the EPA on behalf of Oklahoma oil companies.
And that's not all.
One of the very first laws President Trump signed ended a rule that required oil and gas companies to disclose payments made to foreign governments. That's on top of his executive order approving the Keystone XL and Dakota Access pipelines.
With oil and gas regulations being slashed, American oil companies will be even more profitable than before. And as oil prices rise due to growing demand and OPEC's production cut, the best oil stocks will be money-making plays in 2017.
And to help you find the winners, we're giving you the best oil stocks to buy in 2017...
The Best Oil Company Stocks to Buy Right Now