(Kitco News) – World stock markets were mixed to mostly firmer Monday. U.S. stock indexes are pointed toward slightly lower openings when the New York day session begins.
Gold prices are up on a short-covering bounce after hitting a five-week low on Friday.
Attention of the world marketplace early this week is the two-day meeting of the Federal Reserve's Open Market Committee (FOMC) that begins on Tuesday morning and ends Wednesday afternoon with a statement and a press conference from Fed Chair Janet Yellen. It's widely expected the FOMC will raise U.S. interest rates by 0.25% at this week's meeting. However, markets have already factored in the likely rate hike Wednesday, so keener focus will be on the Fed statement and Yellen's comments at her press conference regarding the pace of U.S. interest rate increases in the coming months.
The key outside markets on Monday morning sees the U.S. dollar index trading slightly higher. The dollar index is still in a price uptrend and has benefitted recently on the likelihood of a U.S. interest rate hike coming this week. Nymex crude oil prices are lower today and hit a 3.5-month low overnight. The oil market is in a tailspin at present, which has somewhat dented worldwide investor and trader risk appetite.
Overnight news was fairly quiet. Voters in The Netherlands head to the polls this week. Traders and investors want to see how the anti-establishment candidate Geert Wilders fares with the voters, as a gauge for the upcoming French presidential election in May.
U.S. economic data due for release Monday is light and includes the employment trends index.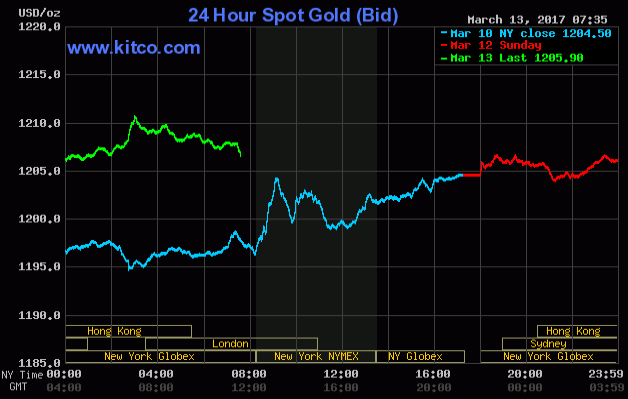 By Jim Wyckoff, contributing to Kitco News; jwyckoff@kitco.com
Follow Jim Wyckoff @jimwyckoff for breaking news.