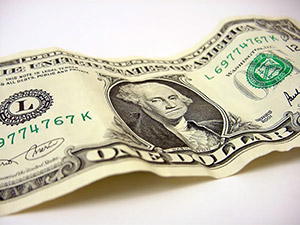 A U.S. stock market crash could be on the horizon. The U.S. Federal Reserve will likely raise interest rates at the same time the government hits its debt limit this week, and that's going to add a lot of uncertainty to an already overheated stock market…
The Dow has soared nearly 15% since Donald Trump won the presidency on Nov. 8, and it's smashed through new record highs along the way. That includes jumping through the 20,000 and 21,000 levels in the fastest 1,000-point gain in its history.
But while these all-time highs have brought big-time profits for investors, our research shows the market is critically overvalued. In fact, we're seeing some of the same signs now that we saw before some of the biggest stock market crashes in history.
While we can't predict a stock market crash with certainty, we think investors need to be prepared. And we'll show you just how to do that in a few seconds. First, here's why the Fed could trigger a 2017 stock market crash this week…
Today Is Looking Like 1929
We looked at the causes of past stock market crashes and found a major similarity to today's stock market…
Speculative investing led to a massive stock market bubble in the 1920s. The Dow skyrocketed by more than 300% between 1922 and the market crash in 1929. But the huge growth was unsustainable.
Don't Miss: Three Reasons You Shouldn't Try to Invest Like Warren Buffett
You see, investors believed stocks would only go up. As Irving Fisher, a famous economist of the time, put it in 1929, stocks had reached a "permanently high plateau." And that belief meant investors were willing to take unhealthy risks to buy stocks. In fact, amateur traders borrowed over $120 billion (in today's dollars) to buy stocks during the 1920s. After all, if stocks could only go up, borrowing money to buy more of them only made sense.
But the conventional wisdom was wrong. Speculation had driven up stock prices in the 1920s until they could go no higher.
And when stock prices began to correct, investors panicked by selling all at once. On Black Tuesday – Oct. 29, 1929 – the market collapsed by 12% in one day. Some traders couldn't find a buyer for their stocks at any price. The Dow eventually fell 86% by 1932.
But speculation led to a stock market crash more recently, too.
The 2008 stock market crash was the result of a bubble in the housing market.
Housing prices doubled between 1996 and 2006. And because home prices were steadily rising, banks and buyers were willing to take unreasonable risks on home purchases. Buyers bought homes that were more expensive than they could afford, and banks lowered their mortgage-lending requirements to entice more buyers. Wall Street got in on the action by buying up mortgages and repackaging them as tradable securities.
Just like in the 1920s, the logic made sense as long as prices kept rising. A buyer could take out a risky loan and refinance to a safer mortgage later on after the price of their home went up.
But this too wouldn't last.
The housing market collapsed in 2007, sending home prices falling and sinking the value of the mortgages Wall Street had been trading. That led to the stock market crashing, too. On Sept. 29, 2008, the bottom dropped out of the market and the Dow dropped 7% in one day.
We are now seeing some of the same signs of speculation driving up stock prices today. And that could lead to the next stock market crash…
Why You Need to Prepare for a Stock Market Crash in 2017
Low interest rates have helped artificially boost stock prices. And with the Fed likely set to raise rates on Wednesday, those artificial highs could end with a market correction or even crash.
Back in 2008, the Fed slashed interest rates to 0.25% from over 5% to jumpstart the economy during the recession. Since then, it's only raised rates two times, but the interest rate is still under 1%.
The 2008 rate cut was meant to allow corporations to borrow money more cheaply. The idea was that cheap borrowing costs would lead to more businesses spending money, growing the economy and ending the recession.
In practice, this isn't what happened. Major corporations borrowed massive amounts of cash, but they used those funds to repurchase shares of their own stock. Since 2008, U.S. companies have borrowed $2.1 trillion and spent $1.9 trillion on stock buybacks.
That means low interest rates have driven share prices up beyond what they would have been if rates were higher. And there's even better evidence stocks are overvalued, too.
The Shiller PE ratio, a measure of stock market value created by Nobel Laureate Robert Shiller, shows stock prices are way above their average value. Right now, the Shiller PE ratio is 29.11, 73% above its historic average. Stocks are now valued even higher than they were before the 2008 stock market crash, when they reached a level of 27.4.
And now the Fed is set to hike rates this week.
Trending: This Silver Price News Supports Our Bullish 2017 Forecast
The CME FedWatch Tool shows a 95.2% probability of a rate hike during the FOMC meeting on Wednesday. But that's not all. During the December FOMC meeting, Fed officials predicted there would be three rate hikes in 2017 alone. That means the era of low interest rates is ending in a hurry.
And it also means the soaring highs might not last. If the Fed triggers a stock market crash in 2017, investors need to be prepared. That's why we're going to show you exactly how to prepare to protect your money during a stock market crash…
Your 2017 Stock Market Crash Investment Guide