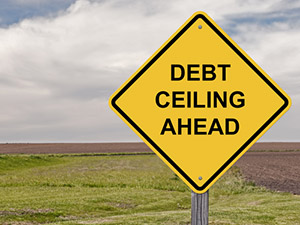 The debt ceiling deadline is Wednesday, March 15, 2017, and the reinstatement of the debt ceiling could spell disaster for the current bull market. Fortunately, we've created an investment plan to weather any market volatility that comes after the debt ceiling deadline (which we'll get to in just a moment).
The debt ceiling was temporarily eliminated in October 2015 to prevent the government from defaulting on debt payments. At the time, there was also a reinstatement date in the measure. That date of March 15, 2017, has arrived this week.
Here's a closer look at exactly what will happen at the debt ceiling deadline…
What Every Investor Needs to Know About the Debt Ceiling Deadline
The debt ceiling is the maximum amount the government is allowed to borrow to operate. The spending that goes towards the deficit, and by extension the debt ceiling, is approved by Congress in the annual budget. Right now, there isn't a debt ceiling because it was suspended.
Once the debt ceiling has been reached, the Treasury cannot borrow any more money to fund the government. At this point it will need to decide what gets paid and what doesn't to extend the use of the cash on hand. After the cash is spent, the government defaults on its obligations, including debt, if the ceiling has not been raised.
When the debt ceiling is reinstated, the new ceiling will expand to accommodate any new debt the government has taken on while the ceiling was suspended. However, it will not leave room for additional financing. The debt ceiling will be reinstated at a level of about $20 trillion.
On March 8, Treasury Secretary Steven Mnuchin wrote to Congress urging them to raise the debt ceiling by midnight on March 17. The debt ceiling needs to be raised to prevent "extraordinary measures" from going into effect to avoid the U.S. defaulting on its debt obligations.
The "extraordinary measures" is a cut of all nonessential government spending. By cutting the nonessential spending, the government will not have enough cash to fund operations until sometime this fall. At that point, if the debt ceiling is not raised, the U.S. government will default on debt payments.
If the debt ceiling isn't raised, extreme market volatility could result as investors begin to fear a possible default for the first time in U.S. history.
The volatility this type of uncertainty will create could put an end to the bull market we have enjoyed over the last eight years. There is even a chance the fear of a default and government shutdown could cause a market correction. That's why we've created the following three-step strategy to help protect your money from market volatility…
Investing After the Debt Ceiling Deadline