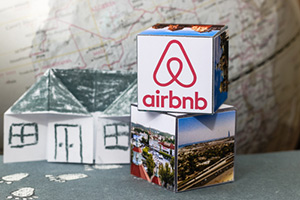 With a valuation over $30 billion, the Airbnb IPO could be the biggest public offering of 2017. And it could also be the most hyped IPO of the year.
After the March 2 Snap Inc. (NYSE: SNAP) IPO, anxious investors are waiting for the next big private company to go public. Retail investors assume they can make double-digit and triple-digit returns by buying into an IPO early.
But we don't want Money Morning readers to buy Airbnb stock on hype alone.
That's why in this exclusive Airbnb IPO and stock guide, we've provided readers with everything they need to know about the hotel industry disruptor.
And at the end of this guide, you'll know exactly how to profit from the Airbnb IPO date.
Here's everything you need to know before Airbnb stock starts trading...
When Did Airbnb Start?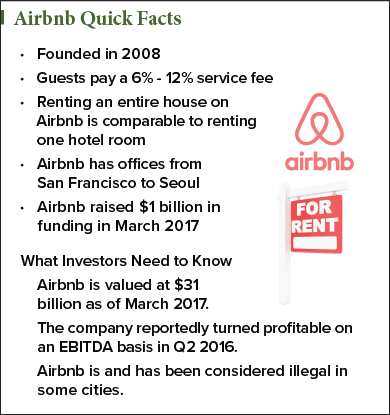 The idea for Airbnb reportedly came about in 2007 when roommates Brian Chesky (current CEO) and Joe Gebbia (current CPO) could not afford their rent.
The duo came up with a creative solution: Put an air mattress in their living room and run a bed and breakfast. In February 2008, Chesky, Gebbia, and Nathan Blecharczyk (current CTO) called the new venture AirBed & Breakfast.
The trio created the website Airbedandbreakfast.com in the summer of 2008.
In 2009, the company name was changed to Airbnb.com.
How Does Airbnb Make Money?
Airbnb makes money from service fees for bookings. Each time a reservation is confirmed, guests will pay a service fee of 6% to 12%.
These fees can be higher or lower based on the specifics of the reservation.
Hosts are also charged a service fee to cover the cost of processing transactions. The service fee for hosts is calculated from the reservation subtotal.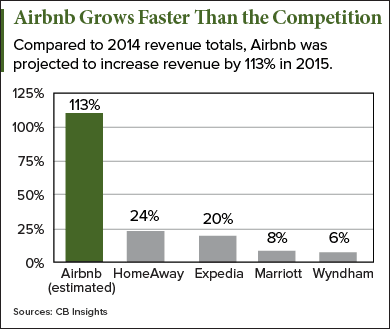 Depending on international and local laws, some users will also be charged a value-added tax (VAT). According to Investopedia, guests traveling in the European Union, Switzerland, Norway, South Africa, and Iceland will be charged a VAT.
Because of Airbnb's unique approach, its revenue was projected to have increased 113% from 2014 to 2015.
How Much Is Airbnb Worth?
As of August 2016, Airbnb was valued at $30 billion.
However, CNBC reported on March 9 that Airbnb closed a round of funding worth more than $1 billion.
With the latest round of funding, Airbnb is now worth $31 billion.
In comparison, Snap Inc. (NYSE: SNAP), potentially the most hyped IPO of 2017 thus far, was valued at $24 billion when it priced its shares at $17.
Want to Make Money? Here's how to make over $100,000 starting with a small amount of money... rolling stocks over and over again. Click here for this proven investing method...
In terms of U.S. companies yet to go public, Uber is one of the few that's valued higher than Airbnb. Uber has a valuation of $66 billion as of June 8, 2016.
When Will Airbnb Go Public?
At a luncheon hosted by the Economic Club of New York on March 13, CEO Brian Chesky said going public was a two-year process, according to CNBC.
Chesky also said at the luncheon that Airbnb was halfway through that process.
He reportedly doesn't want to rush the process and said he's seen too many companies fail by trying to rush an IPO.
If it's halfway through the IPO process, Airbnb could go public in the first half of 2018.
What Is the Airbnb Stock Symbol?
Right now, there is not an Airbnb stock symbol.
The symbol "AIRBNB" would be available if the company wanted to use it. If Airbnb wanted to use the symbol "AIR" to make it shorter, that also appears to be available.
Companies want to use stock symbols that are similar to their company name so they can be easily identified by investors.
That means the Airbnb stock symbol will most likely be "AIRBNB," or "AIR."
What Is the Airbnb Stock Price per Share?
We don't have a stock price per share for Airbnb yet.
However, there will be two different Airbnb IPO prices Money Morning readers need to be aware of...
Before retail investors can buy Airbnb stock, there will be an Airbnb IPO offering price only available to big banks, wealthy investors, and large institutions. And the IPO offering price is normally cheaper than what retail investors will pay.
Once the stock begins trading, there will be an opening price that any investor can buy in at. However, this will likely be much higher than the offering price.
Must Read: Your Uber Stock and IPO Guide
For example, the Snap Inc. IPO offering price was $17 per share for insiders.
But when SNAP stock was available for retail investors on March 2, they had to pay $24 per share. That's because the initial demand for SNAP stock was so high that the price was bid up even before hitting the market. The SNAP stock price closed at $24.48 per share that day, which means retail investors who bought in at the opening price made a small profit of 2%.
However, those big banks and large institutions that paid $17 per share made huge profits of 44% from the offering price.
So when you hear about the 40% or 50% gains made in one day from IPOs, it's never the retail investors who make those gains.
Now that we've looked at all of the details of the Airbnb IPO, we've come to the most important question of all...
Should I Buy Airbnb Stock?