The Federal Open Market Committee (FOMC) meeting today (Wednesday, March 15) will likely end with the Fed raising interest rates for the first time in 2017.
With a 100% probability of a rate hike, economists have been certain of an increase for weeks now. That's because last month's jobs report crushed expectations by 17.5% and the inflation rate currently hovers at 2.5% -- the highest since 2012.
Interest rates are important because they trickle down through all levels of the economy. That means they also trickle down into the stock market, which can leave investors uncertain about how higher rates affect their money.
Here are three things that could happen following the Fed rate hike today...
Stocks Could See Short-Term Volatility After the FOMC Meeting Today
While a rate hike doesn't directly affect the Dow Jones Industrial Average and S&P 500, it can impact trading behavior. Investors and traders who are uncertain about the rate hike's economic effects could panic and engage in a short-term sell-off.
This happened after the December 2015 rate hike. After the Fed raised rates on Dec. 16, 2015, for the first time in a decade, the Dow Jones took a sharp plunge. The index dropped 8.3% from Jan. 1, 2016, to Feb. 12, 2016.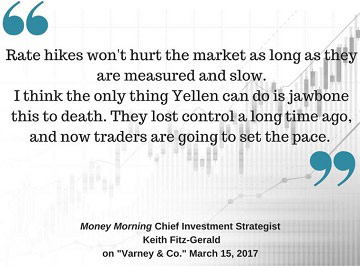 But again, that was just a short-term dip. Both the Dow Jones and S&P 500 have soared 28.9% and 26.2%, respectively, since Feb. 12, 2016.
This makes it clear that interest rate hikes won't hurt the market in the long run, even if the Fed decides to raise rates two to three more times this year. And because today's rate hike is all but expected, any sell-off would be muted.
That ties into the second potential effect of a Fed rate hike today. This is arguably the most important piece of data the Fed will release today - and it can be summed up in one chart...