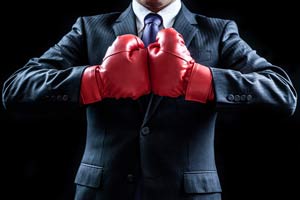 Activist investor Carl Icahn declared five years ago that rival activist investor Bill Ackman would be the victim of the "mother of all short squeezes." Now he appears to be taking steps to make that happen...
On Monday, Icahn snatched up an additional 372,342 shares of Herbalife Ltd. (NYSE: HLF). He now owns 22,872,342 shares in the company, which amounts to 24.57% of the shares outstanding and $1.2 billion.
The move may have been an act of retaliation against Ackman, who is short $1 billion worth of Herbalife and has said the stock will go to zero.
Don't Miss: Secret testing in New Mexico ghost town set to unleash $127 billion in new wealth. Read more...
Here's a look at how the two Wall Street giants got started in a 14-year-long, billion-dollar betting match...
The 14-Year Battle Between Carl Icahn and Bill Ackman
It all started back in 2003, when Ackman sold Icahn his hedge fund's stake in a publically traded real estate company, with the agreement that Ackman's investors would get a cut of the profit. However, Icahn flipped the real estate company for a 75% gain and declined to share the promised profits with Ackman's investors.
After the failed deal, Ackman sued Icahn; the court ruled that Icahn had to pay the investors $9 million plus interest.
Shortly after Icahn transferred the money, the two spoke on the phone. As Icahn remembers it, "he [Bill] started to lecture me...and I said, 'I've been in this business for 50 years, and I've done O.K. without your [Bill's] advice," according to The New York Times.
The billionaires' spat remained dormant for nine years until 2012, when Ackman announced the aforementioned $1 billion short of Herbalife.
In what presumably was an act of revenge for being sued by Ackman, Icahn invested a large sum of money into Herbalife. The two men went after each other on an expletive-laden name-calling match on CNBC in 2013:
Then in 2014, the Federal Trade Commission (FTC) opened an investigation into Herbalife's business practices. Icahn put five of his own people on the company's board to help shepherd it through the probe.
The investigation ended in July 2016. The FTC fined Herbalife $200 million and forced it to "fundamentally restructure" its business. Icahn seemed undeterred by the FTC's ruling; instead of selling, he increased his ownership from 25% to 34.99%.
And that brings us to Monday's events, when Icahn increased his long position yet again. The move sent HLF shares up 3% in pre-market hours that day, and the stock is up 3.8% since, at $53.84 per share.
Saudi Arabia's $100 Billion Plan to End Big Oil: Billionaires have been dumping oil stocks at a frantic pace. Warren Buffett sold $3.7 billion worth of oil holdings, Bill Gates unloaded nearly $1 billion, and George Soros closed out multiple positions. A former intelligence operative believes it's connected with the new fuel Saudi Arabia is pouring $100 billion into. Click here to find out more...
To get more up to date news on Wall Street, follow us at @moneymorning or on Facebook.