The markets have soared since Donald Trump won the presidency, with the Dow up 14.5% since Nov. 8. But that doesn't mean every stock is climbing.
In fact, some of the best profit opportunities in the market can be found in the three top stocks to short, which are all dropping quickly.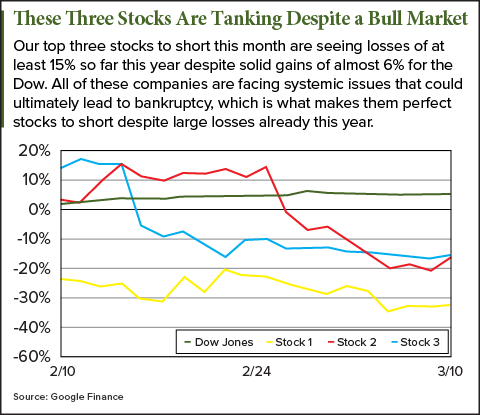 The recent rally for the Dow is part of a much longer rally for the index. In the past year alone the Dow is up almost 21%, and it's up 190% over its eight-year bull run.
While the markets as a whole may be rising, the top stocks to short today that we're targeting have lost between 15% and 40% of their value in 2017 alone.
And the dips won't stop there...
The losses stem from systemic issues that will be extremely difficult to overcome. And it's not far-fetched to think these companies will eventually declare bankruptcy, driving share prices to $0.
The first of the top stocks to short has been hanging on to "nostalgia" too long and has continually failed to innovate....
Stocks to Short No. 3: Avon Products Inc. (NYSE: AVP)
"The company for women" was founded in 1886. Since then, the iconic slogan of "Avon calling" has become synonymous with the door-to-door sale of cosmetics.
Despite an amazing history of helping women, Avon Products Inc.'s (NYSE: AVP) future is troubling.
Surprisingly, one of the first trends that has led to Avon's demise is the increase of women entering the workforce. In 1950, only about 30% of women participated in the workforce. By 1990, about 60% of women worked outside of the home.
Must See: This Great Depression-Era "Secret" Helped Transform Two Teachers into Millionaires. Read more...
Sign up for SMS so you never miss special events, exclusive offers, and weekly bonus trades.
On the surface, women working should be good for a cosmetics company. The issue is twofold, though. First, women were not home during the day to answer the door when the Avon ladies made their rounds. The second issue is that door-to-door sales became less appealing as more opportunities for women became available.
In fact, Avon saw a decline of 2% in active representatives just last quarter. Fewer sales representatives means lower revenue, which declined 2.4% last quarter.
If that wasn't enough, Avon has also been facing increased competition.
For starters, high-quality and affordable cosmetics are easy to find everywhere women shop these days. Drug stores, grocery stores, even Wal-Mart Stores Inc. (NYSE: WMT), all have a large selection of cosmetics. In these stores you can see the physical product before you buy. When you order from Avon, you either order online or from a catalog.
High-end stores have been gaining in popularity for those who want a consultation and to try products before they buy. Ulta Beauty Inc. (Nasdaq: ULTA), MAC Cosmetics, and Sephora USA Inc. all have stores where you can try products. They also have knowledgeable staff that can help you make selections based on your skin type and preferences, something an Avon representative used to help with.
The last part of the Avon model was convenience. You didn't need to leave your house to buy cosmetics. The representative came to you.
These days the Internet has taken over the convenience market. In fact, 73% said Amazon.com Inc. (Nasdaq: AMZN) was their number one destination for beauty products in a 2015 eMarketer survey.
All of this has led to decreasing revenue and profit over the last five years. So in a last-ditch effort to regain profitability, Avon entered a restructuring deal with Cerberus Capital Management LP in December 2015.
Cerberus specializes in investing in distressed companies. Having to make a deal with this company in order to get the cash you need is never a good thing.
In the deal, Avon spun off its underperforming North American business. Avon then sold 80.1% of the business to Cerberus for $170 million.
Despite unloading the underperforming arm of the business, Avon still has a lot going against it.
Avon's international business (that the company owns the majority stake in) has been marred in controversy since 2008. The company has faced Chinese corruption charges, animal-testing allegations, and labor harassment accusations in Turkey.
The once-iconic brand is falling hard. AVP stock has dropped 15.67% so far in 2017 and is currently trading at $4.28 per share. But we expect the stock to continue falling even further as punitive fines from the harassment accusations are levied.
This next company to short continues to make headlines for its purportedly illegal business practices...
Stocks to Short No. 2: Valeant Pharmaceuticals International Inc. (NYSE: VRX)
Valeant Pharmaceuticals International Inc. (NYSE: VRX) is known for its questionable business practices. The company is notorious for buying smaller pharmaceutical companies (financed with debt), firing the staff of the newly acquired company, and dramatically raising prices of the new drugs at its disposal.
Valeant has also been accused of defrauding insurers. This led to a criminal investigation in August 2016. The allegations pointed to close ties to Philidor Rx Services LLC, a mail-order pharmacy that has since gone under.
Philidor worked on behalf of Valeant to persuade insurers to approve the higher-priced Valeant drugs over cheaper alternatives in exchange for kickbacks.
By November 2016, charges were filed against Gary Tanner, a former executive of Valeant, and Andrew Davenport, the former CEO of Philidor. They were charged with federal wire fraud and money laundering.
The media coverage of the investigations into Valeant's business practices, along with a push for generic drugs, caused a decline in sales and profit. In 2014, the company announced operating income of $2 billion. However, 2016 saw an operating loss of $566 million.
This decline in profitability spells disaster when coupled with the ever-increasing debt load that will be subjected to higher interest rates when refinanced. The company's long-term debt has almost doubled between 2014 and 2016 from $15.229 billion to $29.846 billion.
Declining profits are already putting pressure on this highly leveraged company. The fines that are sure to follow the criminal investigations may be the final nail in the coffin for Valeant.
So far this year, VRX stock has declined 25% and currently trades for $10.98. It is likely the stock will continue to crumble as ex-executives are convicted of crimes and the U.S. Department of Justice issues fines for the company.
While 25% is a large three-month decline, this next company is down almost 40% so far this year, and the losses show no sign of stopping...