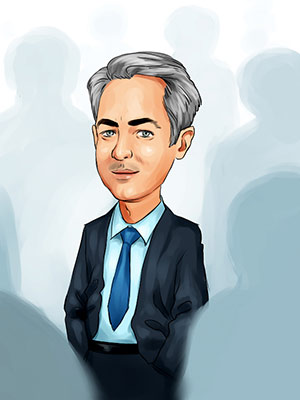 Money manager Bill Ackman's hedge fund Pershing Square once boasted extraordinary returns. For instance, in 2014, the fund beat out the S&P 500 by a whopping 27%, with 40% gains.
However, Pershing Square's returns are not what they use to be...
Last year, the fund posted a negative return of 13.5%; in 2015, it returned negative 20.5%, significantly underperforming markets two years in a row. In fact, since the end of 2012, Pershing has returned 5.7% to investors, while the S&P 500 has skyrocketed 67.4%.
Majorly contributing to Pershing's recent sagging returns is that three of Ackman's worst trades ever all happened over the past two years...
Bill Ackman's Biggest Blunder No. 3: Target Corp. (NYSE: TGT)
In 2007, Ackman set up Pershing Square IV, a single-stock fund that invested $2 billion in Target Corp. (NYSE: TGT) call options and other derivatives that year. The fund ended up losing 90% of that money after TGT shares plummeted 50% in 2009. At the time, Target's "expect more, pay less" slogan became half irrelevant as consumers began to shy away from the retailer in favor of Wal-Mart, which was cheaper and offered a wider food selection.
In May 2009, Ackman said that Target's board was too "cozy" and "insular," and it lacked members with requisite retailing, credit card, and real estate backgrounds. In a letter to shareholders, Ackman said Target "has substantially underperformed its potential" due to the board.
Sign up for SMS so you never miss special events, exclusive offers, and weekly bonus trades.
Don't Miss:

Secret testing in New Mexico ghost town set to unleash $127 billion in new wealth.
Read more...
Ackman, who owned a 3% stake (24.8 million shares), fought to get on the board along with four other handpicked members. After months of public accusations on both sides, shareholders voted for board appointments on June 3, 2009. All incumbent directors were re-elected with at least 70% of the vote...
In other words, Ackman's months-long campaign to take over fell flat as he and his hand-selected crew failed to make it on the board. Following the defeat, Ackman sold out of Target at an enormous loss. Shares traded at $70.14 before he first reported his stake; they closed at $51.52 when he announced he had sold his last share.
Bill Ackman's Biggest Blunder No. 2: Herbalife Ltd. (NYSE: HLF)
Since May 2012, Ackman has maintained that Herbalife Ltd.'s (NYSE: HLF) business structure resembles a pyramid scheme and the company is destined for a major collapse. Later that year, on Dec. 19, news broke on CNBC that Ackman had taken a massive $1 billion short position against Herbalife.
Two years later, it looked as though Ackman's bet was going to pay off...
In 2014, the Federal Trade Commission (FTC) opened a probe into Herbalife's business model on Ackman's allegations the company operated like a pyramid scheme.
Must Read: What is a Ponzi scheme? Click here for our infographic...
But after two years of investigations, the FTC did not find that Herbalife was acting as a pyramid scheme. The determination sent HLF shares up sharply by 18% on July 15, 2016 -- the day of the FTC announcement.
Fortune estimated on Jan. 30, 2017, that Ackman may have shorted more than 20 million shares of Herbalife stock. Its calculations suggest Ackman may have lost about $500 million on his short bet.
However, $500 million lost on a short gone wrong will look like chump change compared to Ackman's next bet, which may go down as one of the worst in Wall Street history...