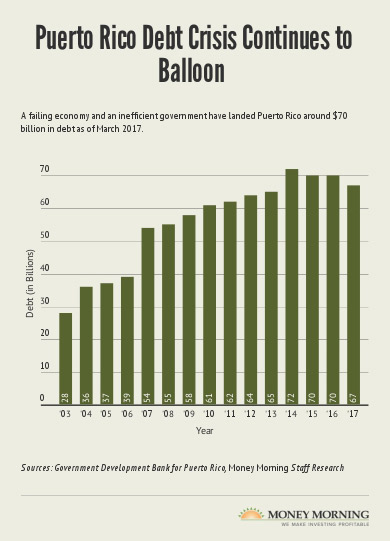 Puerto Rico is slowly moving toward ending its debt crisis...
Exactly how much does Puerto Rico owe?
Currently, the U.S. territory is over $70 billion in public debt.
So far, the island's new governor, Ricardo Rossello, has taken steps to close the chronic deficits in the two months he's been in office. He immediately signed orders for agencies to reduce 10% of spending by the end of the fiscal year in June, Bloomberg reported on Jan. 3. And Rossello sounds committed to making cuts across the board until the U.S. territory is back on solid ground.
"Once we get to our first budget, we'll make even more adjustments and cuts," Rossello said in an interview with Bloomberg, adding that an additional 10% of spending would later be cut. "We're taking the immediate steps that are necessary," he said.
Regardless of his efforts, the Puerto Rico debt crisis is still far from over.
The island skipped payments on a growing share of debt under predecessor Alejandro Garcia Padilla, who warned the island's debts were "unpayable" in June 2015. In 2015 and 2016, Puerto Rico made payments on a small portion of its debt - but the struggling island still has a long way to go.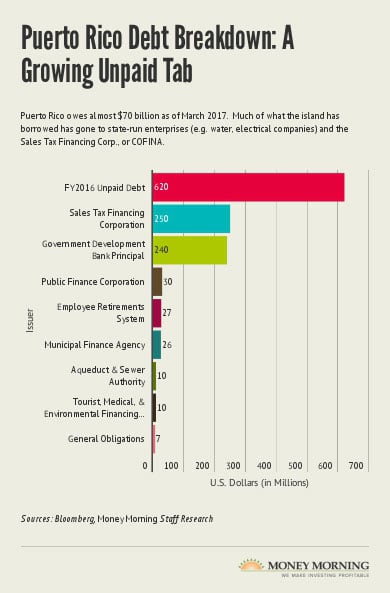 These four charts put just how much Puerto Rico owes into perspective...
How Much Does Puerto Rico Owe? A Debt Breakdown
Puerto Rico owes almost $70 billion as of March 2017.
You see, the island's economy began contracting in 2006. That led to the government borrowing large sums to cover budget deficits and operating expenses.
Much of the money has been sucked up by state-owned utilities. Additionally, a health insurance system for impoverished citizens that Puerto Rico created in the 1990s has also sapped funds - the government has yet to identify a source of funding.
And "even with steps to address the deficit," Rossello said in an interview in Washington last month, "the island will only have $800 million to $1.3 billion a year available to cover debts -- less than half the more than $3 billion it will owe annually over the next decade."
Why Puerto Rico Owes So Much: Dwindling Labor Supply
One major problem dragging down Puerto Rico's economy is a lack of workers. The current unemployment rate in Puerto Rico is over 12% -- more than twice that of mainland U.S. And labor force participation (LFP) is currently 41.20% - roughly 20 percentage points lower than the U.S. average. That means only 41% of adult Puerto Ricans are employed or looking for a job, compared to 63% of the U.S. labor force.
A major cause of the island's low LFP is an ill-considered minimum wage hike. In 1983, Congress ordered Puerto Rico to equalize its lower rate with the federal figure.
But the result proved harmful...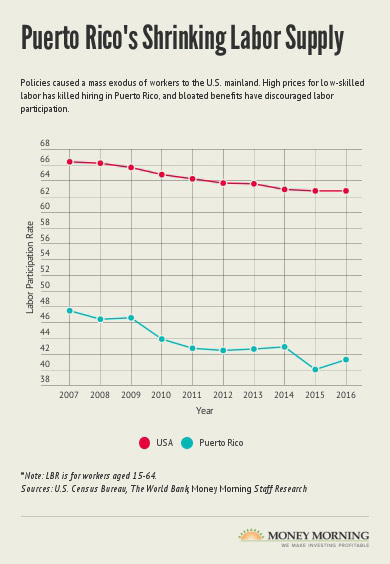 According to a 1992 National Bureau of Economic Research analysis, the minimum wage hike "substantially reduced employment on the island." It triggered a mass migration of suddenly unemployable lower-skilled workers to the continental United States.
Must See: This Great Depression-Era "Secret" Helped Transform Two Teachers into Millionaires. Read more...
Inflated benefits have also discouraged labor participation. Even with the higher minimum wage, employees in Puerto Rico still get paid less than the combined package of welfare, Medicaid, and food stamp benefits for which a family of three might qualify, according to the New York Post.
That lack of incentive to work has been a sort of "silent" contributor to the Puerto Rico debt crisis.
But perhaps the best way to illustrate the massive amount of trouble the island territory is in is to compare what it owes to the most debt-ridden areas in the continental United States...
How Much Puerto Rico Owes Will Get Worse: Puerto Rico Debt vs. State Debt