(Kitco News) – World stock markets were mostly weaker Monday, pressured in part by slumping crude oil prices again. The marketplace is digesting the just-completed Group of 20 finance ministers meeting in Germany. Many agree this meeting saw world trade prospects diminish somewhat amid the more nationalistic tone coming out of the U.S. Japanese markets were closed for a holiday today.
U.S. stock indexes are pointed toward weaker openings when the New York day session begins.
Gold prices are higher and hit a two-week high overnight, as the bulls have gained technical momentum the past few trading sessions.
The key outside markets on Monday morning see the U.S. dollar index trading slightly lower and hit a six-week low overnight. The greenback bears have technical momentum on their side to suggest more selling pressure this week.
Meantime, Nymex crude oil prices are lower today. The crude oil bears have the firm near-term technical advantage following the recent steep downdraft in prices.
In overnight news, the Euro zone fourth-quarter labor costs were reported up 1.6%, year-on year, while wage costs were up the same about during that timeframe. The numbers were a bit higher than seen in the third quarter. Meantime, a report from Germany said that country's producer price index rose at the strongest pace in five years in February-up 3.1%, year-on-year.
This data continues a theme of modestly rising, but not yet problematic, inflationary price pressures in the major economies of the world.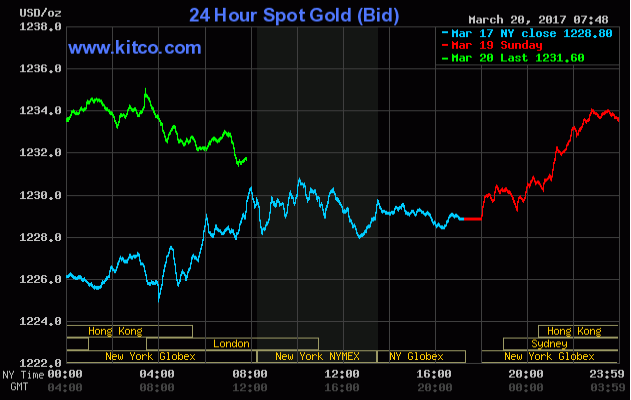 U.S. economic data due for release Monday is light and includes the Chicago Fed national activity index.
By Jim Wyckoff, contributing to Kitco News >
Follow Jim Wyckoff @jimwyckoff for breaking news