There's some big news about the top marijuana stock to watch this week: One company is launching a product with a $699.95 price tag that has state-of-the-art LED technology that could be a game-changer for growers.
Through our free Money Morning Profit Alerts service, this is the type of news we deliver directly to our readers every day in real time.
Video
Cannabis Is Big Business
We're focused on the marijuana industry right now because of the massive wealth it could create for retail investors.
Sales in North America alone are expected to skyrocket from $6.7 billion in 2016 to over $20 million by 2020.
That's a potential 198% increase in sales in just four years.
You see, this explosive growth reminds us of two other companies. These two companies were both startups in emerging industries but are now valued at $408 billion and $403 billion. They may have been thought of as risky investments at the time, but now they are both household names.
But some forward-thinking investors have profited over 2,800% from just one of the two companies we are about to mention...
Marijuana Stocks Could Provide Massive Long-Term Profits Like These Stocks
On May 15, 1997, Amazon.com Inc. (Nasdaq: AMZN) stock opened to the public at $29.25 per share. At the time, Amazon was just a bookseller.
Now, Internet shoppers can do everything on Amazon from streaming movies to ordering groceries.
NEW: Plot your course to a 7-figure weed windfall with the top pot stocks from every ecosystem - growers, edibles, dispensaries, and more. Read more...
In fact, 80% of U.S. consumers make at least one purchase from Amazon each month as of December 2016, according to DMR.
And forward-thinking investors who believed that online shopping was more than just a trend have been rewarded with quadruple-digit gains.
From today's opening price of $851.51, the AMZN stock price has climbed 2,809.40% since May 15, 1997.
Another company that has rewarded forward-thinking investors is Facebook Inc. (Nasdaq: FB).
Much like online shopping, social media networks were just viewed as something trendy that didn't have growth potential. Analysts based that on MySpace, a popular social media network site in the early 2000s.
MySpace sold for $525 million in 2005 to NewsCorp, but its value fell to $35 million when Specific Media bought it in 2011.
However, Facebook CEO Mark Zuckerberg turned his social network site into much more than a place to share status updates. For example, hotel customers can use Facebook's Messenger to book rooms and check on reservations, and Facebook is adding job network features to its site.
For retail investors who bought FB stock at $42.05 per share on its May 18, 2012, IPO date, that investment has climbed 232.39%.
I know what you're thinking: Amazon and Facebook operate in completely different industries. They sell legal products and ad space, while marijuana is still illegal under federal law.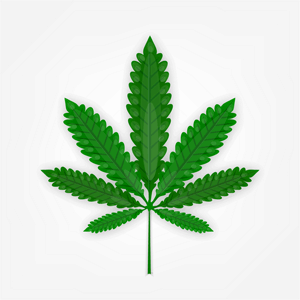 That's 100% true.
But what the marijuana industry has in common with Amazon and Facebook is the long-term growth opportunity.
You see, from growers to cannabis real estate investment companies, the industry is much bigger than analysts realize. And just like how Amazon is more than a bookseller and Facebook is more than a social network, the cannabis industry is more than just buying and selling marijuana.
With 60% of U.S. citizens supporting marijuana legalization (the largest percentage recorded in Gallup's 47-year trend), it's only a matter of time before each state legalizes medical marijuana.
After that, recreational marijuana legalization in each state won't be far behind.
When that happens, marijuana won't be viewed as such a risky industry, and long-term investors could generate massive profits.
For this week, the company we're watching shouldn't be considered a recommendation. Rather, it's a stock to watch for our readers who are following the marijuana industry.
Here is the top marijuana stock on our watch list for March 20...
The Top Marijuana Stock to Watch Right Now