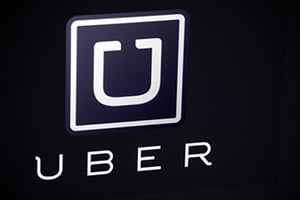 There's more bad news out today (Monday) for the ride-hailing company as Uber President Jeff Jones is quitting.
According to a March 19 Recode report, Jones is quitting because of recent controversies at Uber. These controversies range from sexual harassment claims to Uber using a tool called Greyball to deceive authorities.
Jones reportedly told sources this was not the situation he signed on for as president in late August 2016.
And this resignation is a big deal ahead of the inevitable Uber IPO date...
Why the Resignation of Jeff Jones Is a Major Deal
Uber CEO Travis Kalanick first met Jones in February 2016. According to CNN, within minutes of meeting each other, Jones and Kalanick were debating how Uber could improve its reputation.
Kalanick was eventually able to woo Jones away from Target Corp. (NYSE: TGT), where he was the Chief Marketing Officer.
Want to Make Money? Here's how to make over $100,000 starting with a small amount of money... rolling stocks over and over again. Click here for this proven investing method...
According to advertising and marketing industry news provider AdAge.com, Jones helped "catapult" Target's shopper awareness with memorable campaigns.
For example, Target partnered with musical artist Gwen Stefani for her Grammy performance in 2016 to promote her new album. Target's logo was shown sporadically throughout the performance.
Video
Gwen Stefani Partners with Target
Jones also held executive positions at Coca-Cola Co. (NYSE: KO) and Gap Inc. (NYSE: GPS). He was previously the president for marketing and advertising firm McKinney for over six years.
And the fact that someone with so much experience doesn't feel comfortable with Uber's culture and its future doesn't bode well for the next president.
But most importantly, that means your hard-earned dollars could be at risk by investing in the Uber IPO.
Here's why Uber stock will be so risky, along with a better way to profit from the IPO hype...
Why Uber Stock Is a Risky Investment and What to Do Instead