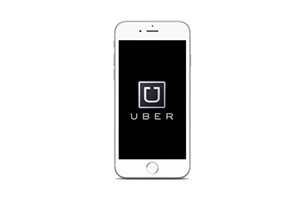 For investors looking for the Uber stock name, there unfortunately isn't an Uber stock symbol yet. So far, the company has not filed paperwork to go public.
However, the stock symbol "UBER" would be available if the ride-hailing app decided to go public. That would be the most likely choice, as it easily identifies the company.
Uber may also decide to keep its stock symbol short and go with "UB."
But there's a big reason investors should wait until Uber files official paperwork before trying to buy Uber stock…
You see, some retail investors who were too anxious for the Snapchat IPO made a major mistake instead of slowing down and waiting for all the information to come out. These investors wanting to invest early in the Snap Inc. (NYSE: SNAP) IPO mistakenly bought shares of Snap Interactive Inc. (OTCMKTS: STVI).
Shares of STVI opened at $4.60 per share on Feb. 2, the day Snapchat filed for its IPO.
By Feb. 6, STVI shares skyrocketed to $10 per share.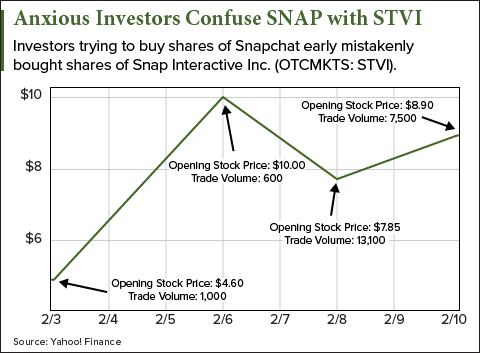 That's a 117% climb in just three days, all because of mistaken identity.
And there currently is a "UBR" stock symbol publicly traded: ProShares Ultra MSCI Brazil Capped (NYSE Arca: UBR).
So before the official Uber IPO date, investors wanting to buy Uber stock should not confuse the UBR ticker for the ride-hailing company Uber.
While we still don't have many details on the Uber IPO, here's what we know so far…
When Is the Uber IPO Date?
CEO Travis Kalanick has been vague when asked about taking Uber public.
According to Business Insider, Kalanick said in June 2016 that he wanted to delay an IPO as long as humanly possible. He gave a time frame for Uber going public between one and 10 years.
Want to Make Money? Here's how to make over $100,000 starting with a small amount of money… rolling stocks over and over again. Click here for this proven investing method…
But before Uber goes public, it will have to deal with a handful of controversies. The first is a tool known as Greyball used to deceive authorities. In cities where the ride-hailing app was illegal, Uber used Greyball to avoid picking up officials involved in Uber sting operations.
According to a New York Times report, sting operations have taken place for years. One sting attempt dated all the way back to 2014 in Portland.
The second controversy is charges of sexual harassment. Susan Fowler, an engineer who formerly worked for Uber, claimed the company threatened to fire her for bringing claims of sexual harassment to the human resources department.
Finally, Uber's most costly controversy right now is lawsuits. As of August 2016, there were 70 pending lawsuits against Uber.
On top of all that, the Uber IPO may be delayed inevitably until the company finds a replacement for former president Jeff Jones.
Kalanick hired Jones to improve the reputation of his company. But the former chief marketing officer for Target Corp. (NYSE: TGT) quit on March 19 because of the recent controversies.
So it looks like it may be a while before we see an Uber IPO. In the meantime, Money Morning Director of Tech & Venture Capital Research Michael A. Robinson has a better way to profit from IPOs as we wait for Uber stock to go public.
Here's the investment to make instead of waiting on Uber…
Invest in This Before the Uber IPO Date