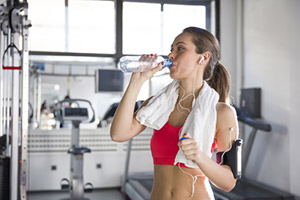 Some are questioning the future of marijuana stocks and marijuana investments as we wait to see how the Trump administration will regulate the marijuana industry.
But good news for the $6.7 billion industry in North America was reported on March 17 by USA Today: The world's first marijuana gym will open in the fall of 2017 in San Francisco.
It's true, the idea of a cannabis gym may seem gimmicky at first.
But the new venture shows two things. One, there is a demand being filled that will create new jobs in the marijuana industry. And two, there's also a growing acceptance of cannabis use.
Now, as more states legalize marijuana, cannabis stock shareholders will make even more profits.
The gym (Power Plant Fitness) will allow members to bring their own cannabis or order marijuana edibles from the gym. A delivery service will reportedly bring the edibles to the gym within 15 minutes of an order.
Power Plant Fitness will also have a designated space for members inhaling marijuana.
Special Report: Cannabis Is the Gold Rush of the 21st Century - 30 Stocks to Invest in Now
Owner Jim McAlpine told USA Today clients will complete a marijuana performance assessment when they join the gym. The staff will assess a client's performance during a "sober" workout and one after using cannabis.
McAlpine anticipates roughly half of the gym's clients won't be good candidates for marijuana-influenced workouts.
The owner also stressed to USA Today that using marijuana at the gym isn't something they are telling members to do. Rather, it's just an option.
Video

World's First Marijuana Gym
Power Plant Fitness isn't a publicly traded company. But it does show there are more ways for investors to profit from the marijuana industry than just from companies that cultivate and sell cannabis.
However, investing in marijuana stocks should still be considered speculative. But because the North American industry is expected to skyrocket from $6.7 billion in sales to $20 billion by 2020, we had to make sure these stocks were on our readers' radars.
Here are two ways to play the booming marijuana market...
Marijuana Stock Investors Are Already Planning a 7-Figure Weed Windfall
[mmpazkzone name="end-story-hostage" network="9794" site="307044" id="138536" type="4"]
The first way to play the marijuana industry is through marijuana real estate companies.
You see, marijuana companies have unique challenges. Because marijuana is illegal under federal law, cannabis companies can't receive loans from banks that would allow them to purchase land and facilities.
That means most cannabis companies rely on renting properties instead of owning.
And one of the companies leading the marijuana real estate industry is Grow Condos Inc. (OTCMKTS: GRWC). Incorporated in 1999, Grow Condos provides turnkey facilities to support marijuana growers.
GRWC also leases, provides development, and invests in sale opportunities for industrial properties focused in cannabis production.
As a part of its projects, Grow Condos announced on Nov. 3, 2016, that it will launch a new subsidiary called Smoke on the Water.
Trending Story: 10 Marijuana Stocks Under $5
Smoke on the Water will offer real estate solutions for marijuana-friendly resorts and campgrounds in Oregon, according to MMJobServer.com. Smoke on the Water plans to acquire operational RV parks initially before rebranding them.
The second way to play the cannabis industry is through marijuana social media stocks.
Two of the social media marijuana stocks to watch are MassRoots Inc. (OTCMKTS: MSRT) and Social Life Network Inc. (OTCMKTS: WDLF).
MassRoots has more than 1 million users who share cannabis content and follow dispensaries through its mobile app or web portal.
According to PR Newswire, MassRoots sent out a letter to shareholders on Jan. 4 with the following highlights:
MassRoots generated $794,000 in revenue as of Sept. 30, 2016, which was an increase of 1,140% from the $64,000 from the same period in 2015.
MassRoots created a partnership with MJ Freeway, a cannabis seed-to-sale tracking platform that has generated more than $5 billion in processed sales.
MassRoots recruited Robert Pullar, the former managing director of investment firm Axis Private Equity Group LLC, to become CFO.
The MSRT stock price opened this morning at $0.90 per share but has a one-year price target of $2.50, according to Yahoo Finance. That's a potential profit of 177.77%.
The other social media marijuana stock to watch is Social Life.
It owns a website called WeedLife Network that has its own search engine that focuses strictly on the marijuana industry.
Marijuana companies can use the site to share deals and coupons.
New marijuana companies can also use the site's free website builder and search engine optimization tools.
So far in 2017, the WDLF stock price has climbed 34.29%.
And these are just some of the small gains forward-thinking investors have already made...
You see, the vote across America for marijuana legalization is expected to create one of the biggest wealth grabs in history, transforming everyday Americans into millionaires overnight.
More states are passing some form of marijuana legalization laws each year.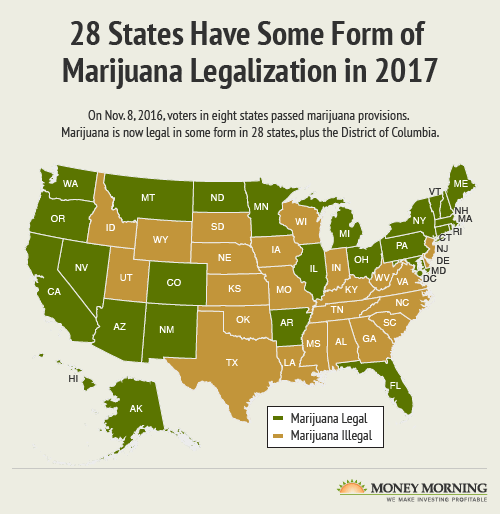 That's why Money Morning Director of Tech and Venture Capital Research Michael A. Robinson has created the "bible of weed investing" for Money Morning readers...
Who Is Michael Robinson?
Michael is one of our most prominent and respected investing "gurus" here at Money Map Press - and for good reason. He is one of the top financial analysts working today. Make no mistake: Michael's ideas are completely his own. He's a true original. He works solely for Money Map Press... and receives absolutely no compensation from companies he writes about.
His book "Overdrawn: The Bailout of American Savings" was a prescient look at the anatomy of the nation's S&L crisis, long before the word "bailout" became part of our daily lexicon. He's a Pulitzer Prize-nominated writer and reporter, lauded by the Columbia Journalism Review for his aggressive style.
Michael's 30-year track record as a leading tech analyst has garnered him rave reviews, too.
As editor of the financial newsletter American Wealth Underground, Michael amassed an amazing track record utilizing rigorous investing. The first analyst to uncover the rare earth mineral crisis, he amassed cumulative gains of 990% for his readers in just 16 months.
It's no wonder that prestigious publications vie for his analysis. He's written for Defense Media Network and Signal Magazine, as well as The New York Times, American Enterprise, and The Wall Street Journal.
His research is world-class, too. The Oakland Tribune, Detroit News, The San Francisco Examiner, The Kansas City Times, Wealth Magazine, and American Banker all publish his reporting. He has appeared on Larry King's syndicated radio show.
Robinson has an honors economics degree from the University of Missouri at Columbia with a minor in journalism.
And as a service to Money Morning readers, we're now making available a 90-page cannabis investing guide called The Roadmap to Marijuana Millions.
This "bible of weed investing" reveals the world's top marijuana stocks every serious investor should consider right now.
Normally valued at $499, it can be yours absolutely free. To learn how to get your free copy, click here.
This offer is only available to the first 500 people who respond today. So please go here now to reserve your copy.