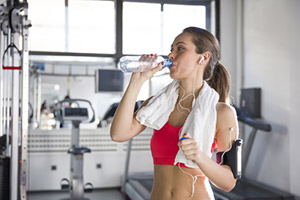 Some are questioning the future of marijuana stocks and marijuana investments as we wait to see how the Trump administration will regulate the marijuana industry.
But good news for the $6.7 billion industry in North America was reported on March 17 by USA Today: The world's first marijuana gym will open in the fall of 2017 in San Francisco.
It's true, the idea of a cannabis gym may seem gimmicky at first.
But the new venture shows two things. One, there is a demand being filled that will create new jobs in the marijuana industry. And two, there's also a growing acceptance of cannabis use.
Now, as more states legalize marijuana, cannabis stock shareholders will make even more profits.
The gym (Power Plant Fitness) will allow members to bring their own cannabis or order marijuana edibles from the gym. A delivery service will reportedly bring the edibles to the gym within 15 minutes of an order.
Power Plant Fitness will also have a designated space for members inhaling marijuana.
Special Report: Cannabis Is the Gold Rush of the 21st Century - 30 Stocks to Invest in Now
Owner Jim McAlpine told USA Today clients will complete a marijuana performance assessment when they join the gym. The staff will assess a client's performance during a "sober" workout and one after using cannabis.
McAlpine anticipates roughly half of the gym's clients won't be good candidates for marijuana-influenced workouts.
The owner also stressed to USA Today that using marijuana at the gym isn't something they are telling members to do. Rather, it's just an option.
Video

World's First Marijuana Gym
Power Plant Fitness isn't a publicly traded company. But it does show there are more ways for investors to profit from the marijuana industry than just from companies that cultivate and sell cannabis.
However, investing in marijuana stocks should still be considered speculative. But because the North American industry is expected to skyrocket from $6.7 billion in sales to $20 billion by 2020, we had to make sure these stocks were on our readers' radars.
Here are two ways to play the booming marijuana market...
Marijuana Stock Investors Are Already Planning a 7-Figure Weed Windfall