(Kitco News) – World stock markets were mostly lower Wednesday, in the wake of the downdraft in U.S. equities that saw the biggest losses of 2017 on Tuesday.
U.S. stock indexes are pointed toward slightly lower openings when the New York day session begins.
Gold prices are trading slightly lower Wednesday but did hit a three-week high overnight. Gold bulls still have technical momentum on their side.
Heavy profit taking was featured in the U.S. stock indexes Tuesday. The S&P
500 stock index futures saw a technically bearish downside "breakout" from a sideways trading range, which produced the most near-term chart damage the index has seen in months. Tuesday's bearish price action is a technical clue the S&P has put in a near-term market top.
Money flows have been heavy into the U.S. and other world stock markets since early November. Many veteran traders and investors had been looking for a good-sized corrective pullback in the stock indexes for some time. Is this the beginning of that big downside correction? Has the "Trump trade" finally faded? It's too soon to say with much confidence, but by the end of trading on Friday, better conclusions can be made on the matter.
If the U.S. and world stock markets do embark on serious downside corrections, such would have significant implications for other markets.
Gold and other raw commodity markets, as well as government bonds, could all benefit as the all-important money flows would move away from equities and into other asset categories.
The key outside markets on Wednesday morning see the U.S. dollar index trading near steady after hitting another six-week low overnight. The greenback bears still have technical momentum as prices are in a fledgling downtrend on the daily bar chart. Meantime, Nymex crude oil prices are lower and hit a four-month low overnight, amid the bearish specter of growing world oil supplies, especially ramped up U.S. shale-oil production. The crude oil bears have the firm near-term technical advantage.
U.S. economic data due for release Wednesday includes the weekly MBA mortgage applications survey, the monthly house price index, existing home sales and the weekly DOE liquid energy stocks report.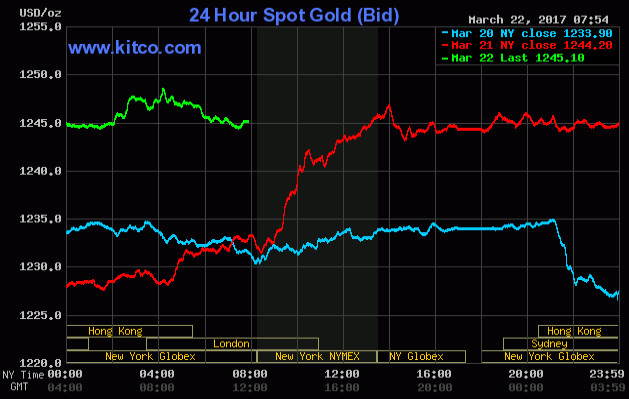 By Jim Wyckoff, contributing to Kitco News; jwyckoff@kitco.com
Follow Jim Wyckoff @jimwyckoff for breaking news.