Today, we're giving you the two best gold mining stocks to buy in 2017. These two will be great long-term investments because we expect gold prices to rise 12.2% from their current $1,248 price to $1,400 by the end of the year.
Here are the two reasons why Money Morning Resource Specialist Peter Krauth sees the price of gold reaching that target in 2017...
Why Gold Prices and Gold Mining Stocks Could Surge in 2017
Krauth is bullish on the gold market this year for two primary reasons...
The first reason is climbing inflation. The inflation rate right now is 2.7%, which is the highest it's been since 2012. As the stock market continues to reach new heights and the yields on 10-year Treasury bonds continue to rise, inflation is only going to get worse.
The relationship between a rising market and inflation is usually an inverse one. That means a rallying stock market will push down the U.S. dollar's purchasing power, which raises prices on goods and serves as a bad economic signal.
Yields on 10-year Treasury bonds are on the rise, which is another inflation sign. Over the last month, yields have increased from 2.31% to 2.42%. The yield even hit a two-and-a-half-year high of 2.62% on March 13.
We rely on the U.S. Federal Reserve to track inflation and put controls in place to keep our economy from overheating. One of the ways the Fed does this is by adjusting interest rates. It has hiked rates twice in the last six months - first in December 2016 and second on Wednesday, March 15. Rates currently stand in the 0.75% to 1% range, and Fed Chair Janet Yellen said there could be two more rate hikes this year.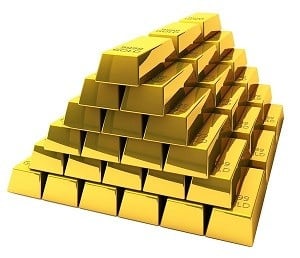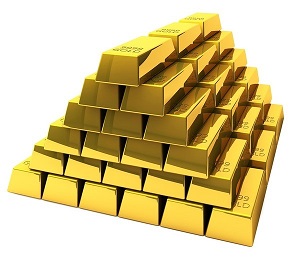 When the economic outlook is uncertain, the demand for gold goes up. This is great news for the price of gold, which also means it's great news for gold stocks.
The second reason Krauth expects a gold price rally in 2017 is a reported drop in the number of short bets on gold stocks. Investors "short" a stock or commodity when they think the price is going to drop. When the price goes down with a short position, the investor makes money.
So far in 2017, one of the biggest indexes that tracks gold shorts - the Gold Bugs Short Index - is down 11%. And the weekly CFTC Commitments of Traders report said total short positions on gold futures contracts fell 2.1% from Feb. 28 to March 7. This means that investors aren't betting against the precious metal, which is a good sign for long-term gold prices.
That's why Krauth expects the gold price to head 12.2% higher to $1,400 per ounce. Both analysts from Dutch bank ABN AMRO and UBS Group AG (NYSE: UBS) agree with this prediction.
And the gold mining sector will see big profit growth as gold prices increase. After all, a higher gold price means more money made on each ounce mined and sold.
The two gold mining stocks we're recommending today are among the most dominant producers in the sector. One of them is the largest gold producer in the world, while the other has extremely low operating costs, allowing it to rake in more profit on each ounce sold.
Here are two of the best gold stocks to buy this year...
These Are Two of the Best Gold Mining Stocks to Buy in 2017
[mmpazkzone name="in-story" network="9794" site="307044" id="137008" type="4"]
There are plenty of gold mining stocks to choose from, but not all of these gold miners are well-run. A top gold mining company not only has access to the right mines, but they can also extract the gold at the most efficient price.
One metric that determines a gold mining stock's quality is the company's all-in sustaining cost (AISC). That's the amount of money it costs a miner to produce just one ounce of gold. Obviously, the lower the AISC, the higher the profits.
That's why Barrick Gold Corp. (NYSE: ABX) is one of our favorite gold stocks of 2017. Barrick is the largest gold producer in the world, and it also boasts the industry's lowest AISC of $760.
With mines across five different continents, Barrick operates at peak profit potential. If gold prices reach the predicted $1,400 mark in 2017, the company's $760 AISC would give it a profit margin approaching 50%.
According to a survey conducted by Yahoo Finance, analysts give ABX stock a high-end one-year price target of $28.54. That's up 47.3% from its current price of $19.37.
Our second gold stock pick - and Money Morning Executive Editor Bill Patalon's favorite mining company - is Goldcorp Inc. (NYSE: GG).
Goldcorp is among the world's top five producers of gold, with 10 active mines throughout Canada, Central and South America, and Mexico. It also boasts a low AISC of $812, which is still one of the lowest in the industry.
That means a $1,400 gold price by the end of 2017 could produce 40% or better profit margins.
But Patalon consistently recommends Goldcorp stock due to the company's innovative business practices, including its highly successful crowdsourcing project...
As far back as 2000, the company ran a crowdsourcing campaign where it asked the public to pick possible mining sites from its public databases. The response was impressive and wildly successful. The public's selected sites had an 80% success rate in producing gold.
GG stock currently trades at $15.91. Analysts revealed a one-year price target of $28 per share, which would produce 76% gains if you bought GG at today's price.
Both Barrick and Goldcorp's potential for huge double-digit gains prove they're two of the best gold mining stocks to own this year.
Rare Gold Anomaly: The first time it created $1.25 billion in new wealth virtually overnight. The second time, it created a cash windfall of $6 billion - both times making in-the-know investors flat-out millionaires. And it's about to happen again, only this time we expect the cash windfall to reach $13 billion. If you take advantage of this rare gold anomaly right now, you, too, could walk away a millionaire. Details here...