(Kitco News) – World stock markets were mixed overnight. U.S. stock indexes are pointed toward slightly higher openings when the New York day session begins. Gold prices are modestly lower on some profit-taking pressure from recent good gains.
Focus of the world marketplace remains on a vote by the U.S. House of Representatives on a bill to abolish the Affordable Care Act, also known as Obamacare.  The vote was expected late Thursday, but was postponed by the Republicans when there were serious doubts the Republicans had the votes to strike down Obamacare. After negotiations between the Trump administration and members of the House Thursday, President Trump took a hard line and declared the vote should take place Friday, or he would move on to other matters and leave Obamacare in place. There is no clear consensus in the marketplace on the outcome of this key vote, which could move markets in its immediate aftermath. The vote is expected late Friday afternoon.
A failure of the House to repeal Obamacare would throw into serious question Trump's ambitious pro-business plans of cutting taxes and regulations. Trump's aforementioned agenda being successfully moved through the U.S. Congress in the coming few months had been the cornerstone of the U.S. and world stock markets' rallies that began in early November.
In overnight news, the Euro zone Markit purchasing managers index (PMI) came in at a six-year high in March, coming in at 56.7 versus 56.0 in February. The March number beat market expectations. A number above 50.0 suggests growth in the sector. A string of upbeat Euro zone economic data the past few months is putting pressure on the European Central Bank to scale back its very easy monetary policy.
China's central bank is continuing to put the squeeze on lending by keeping key interest rates higher to reduce risky investing in the country. China's short-term interest rates are at more than two-year highs.
The key outside markets on Friday morning see the U.S. dollar index trading slightly lower. The greenback bears have some technical momentum as prices are in a fledgling downtrend on the daily bar chart. Meantime, Nymex crude oil prices are firmer on short covering after closing at a four-month low close on Thursday. The specter of growing world oil supplies, especially ramped up U.S. shale-oil production, is keeping crude oil prices tamped down.
U.S. economic data due for release Friday includes the durable goods orders report, and the U.S. flash services and manufacturing purchasing managers' indexes.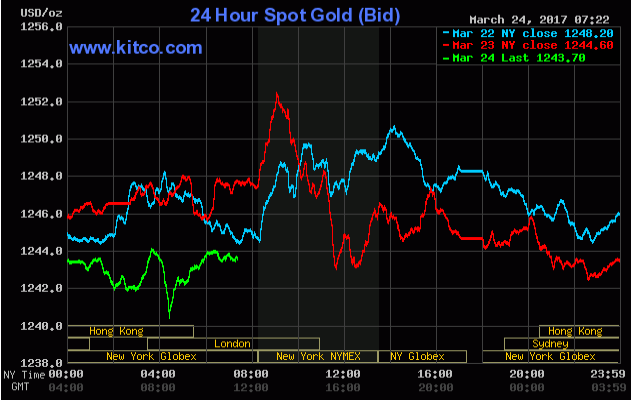 By Jim Wyckoff, contributing to Kitco News; jwyckoff@kitco.com
Follow Jim Wyckoff @jimwyckoff for breaking news.